Polish Dialysis Center Employees Use Visual Management to Increase Safety, Improve Organization of Medical Facility
by Katarzyna Złotowska and Adam Wise
Clear order and organization of tools, equipment, and personnel are crucial components for businesses to ensure daily operations run smoothly and efficiently. These components are even more critical in medical facilities where staff is challenged with providing safe and effective care space, especially in life-and-death scenarios.

At the Regional Nephrology Centre (RNC) Dializa in Poland, disorder in utility rooms caused cramping of space and confusion among staff while seeking treatment devices for patients suffering from chronic kidney disease and other ailments. Acknowledging their facility had plenty of room for improvement in the utilization and organization of facility space, RNC leaders sought to improve management of their equipment to increase patient safety and work quality of medical staff.
Case Study At a Glance . . .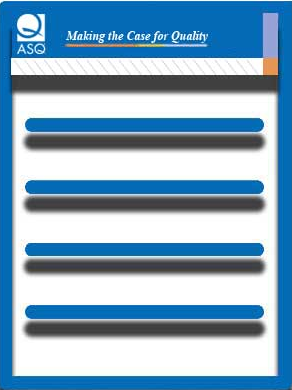 -The Regional Nephrology Centre (RNC) Dializa in Poland uses efficient and effective methods of lean philosophy to ensure patient safety and a high-quality level of medical services.
-The RNC was experiencing problems related to workspace organization, use of utility rooms, and treatment space shared among patients.
-Staff used visual management (VM) lean methods such as 5S, gemba, and kaizen to improve organization and efficiency of hospital space.
Download the entire case study (PDF) or continue reading below.
Find More Case Studies
Search Examples of Quality Success in Healthcare
The ASQ case study collection contains more than 1,700 examples of quality solutions to real-world problems. Find other case studies in healthcare to learn how healthcare institutions are using quality tools to become more productive, efficient, and save money.
Polish Dialysis Center Case Study
About Regional Nephrology Centre Dializa
The Regional Nephrology Centre (RNC) Dializa is a dialysis medical center headquartered in Szczecinek, Poland. The RNC provides complex treatment and care of patients with chronic kidney disease and diabetes. The RNC has two locations: its main location in Szczecinek and a facility in Miastko. The RNC employs 52 individuals, including medical staff, specialists, and managers. Every year, the RNC performs 16,000 dialysis sessions, about 300 hospitalizations, and 1,200 medical counsels in medical nephrology and diabetics practice.
Visualizing the Future of Patient Care at RNC
By improving order and organization, RNC staff would not only address accessibility and safety concerns for staff and patients, it also would affect the bottom line as it decreased the possibility of damage to medical devices by not moving equipment from place to place.

But in April 2014, standards were not followed by employees and equipment was misplaced, creating delays and problems for nurses and other medical staff as time was wasted—critical time that should have been spent with patients. "In rooms were things that shouldn't have been there," said Katarzyna Złotowska, lean hospitals engineer at the RNC to improve clinical processes and supervise quality management systems. "Every time it was another room, another place; nurses wasting their time looking for equipment. Even some devices were used in a wrong way such as scale chairs being used as chair."
Disorder not only created confusion among staff members, but also potential obstacles during times of emergency when patients would need quick and timely transport through or out of the facility. "There wasn't any flowchart, visual procedure, or instructions for how to proceed with a wheelchair, a bed unit, or utility tool, or where they should be placed," Złotowska said. "There were only nondocumented, verbal instructions."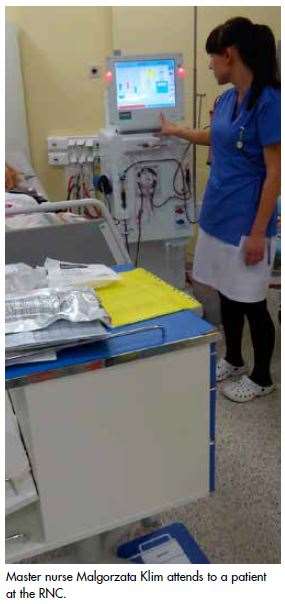 Visual management (VM) is a lean management tool used in many industries as well as in typical life. The main purpose of VM is to improve processes and define how processes should proceed through visualization. It relies on pictures, graphs, sounds, and visual signals, that if properly used, can organize one's work space, increase efficiency of a room's arrangement, and provide precise rules on a space's purpose.
This communication technique brings self-control around the worksite through standardization and continuity of action. Using VM in hospitals ensures specific work standards by comparing current state with future state through medical process flowcharts, process maps, and other means, creating an opportunity to evaluate if a specific current state is correct, or if there are mistakes or aberrations. VM makes work easier for hospital staff while increasing patient safety.
The Dializa Quality Journey
The important element during implementation of this tool was the staff's awareness and commitment toward improving safety, standardization, and increasing the quality level of work and services.
Implementation of VM began April 28, 2014, starting with the storerooms and then the utility treatment rooms. The implementation was divided into individual work units (e.g., drug storehouse, utility rooms). The first month was dedicated to analyzing the possibilities, determining the usefulness of specific assets, and then training individuals on the visual management and 5S methodology. This was conducted in less than one month.
In May and June, ward nurses and other medical staff participated in recognizing new methods. Staff had many questions and new ideas on how VM could be used in the RNC. Then in June and July, new methods were practiced and opinions were shared. Employees were very excited and curious about the effects of VM.
Continue Reading ...
To continue reading this case study, download the complete PDF article.
For More Information
About the Authors
Katarzyna Złotowska, a lean hospitals engineer and quality assurance manager, is a quality leader in Regional Nephrology Centre Dializa sp. z o.o. Złotowska is accountable for quality management systems, information safety, and lean processes at the medical facility. She is a certified auditor of ISO 9001 and ISO 14001, and a project manager. She is responsible for medical process improvement, and staff education concerning quality, processes, new methods, and methodology.
Adam Wise is an ASQ staff writer.