10-Year Quality Journey Leads to Baldrige Honor for Wisconsin School District
by Janet Jacobsen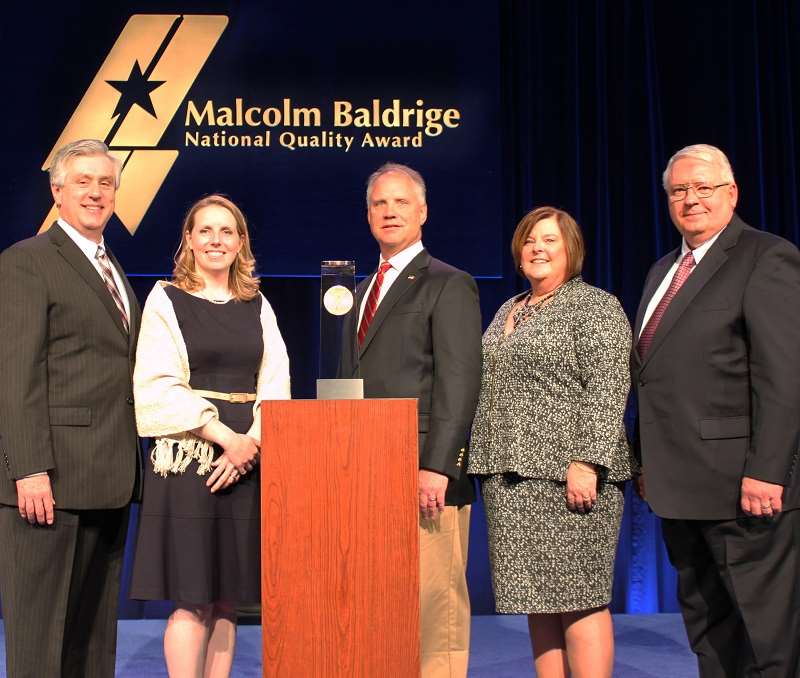 Pewaukee School District (PSD) superintendent JoAnn Sternke, second from right, accepts the Malcolm Baldrige National Quality Award. Also in picture (left to right): PSD board members Brian Kammers, Dacia Hopkins, Jim Huismann, and Larry Dux.
The classic book, The Little Engine That Could, has taught generations of children that hard work and optimism really do pay dividends. JoAnn Sternke, superintendent of the Pewaukee School District, sees parallels between that little engine and her district as it carefully, but steadily, progresses on a long quality journey. This grassroots effort kept a sharp focus on the district's mission and ultimately helped it reach the country's most prestigious quality destination, the Malcolm Baldrige National Quality Award.
Revisit the 2008 case study on the genesis of Pewaukee School District's Baldrige quest.
Case Study At a Glance . . .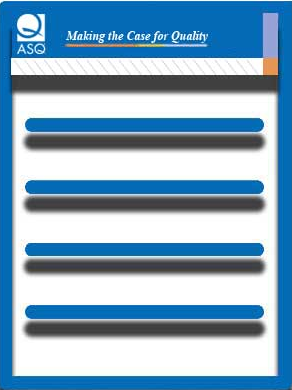 -A decade ago, as the Pewaukee School District deployed the Baldrige framework, it also embraced a systematic problem solving culture, resulting in innovative solutions for serving students.
-By tailoring instruction to meet students' needs, key measures such as graduation rates and ACT scores improved significantly.
-Using quality examiner feedback as an improvement road map, the district captured three Wisconsin Forward Awards before earning the nation's highest quality recognition, the Malcolm Baldrige National Quality Award, in 2013.
Download the entire case study (PDF) or continue reading below for project highlights.
ASQ TV Interview: JoAnn Sternke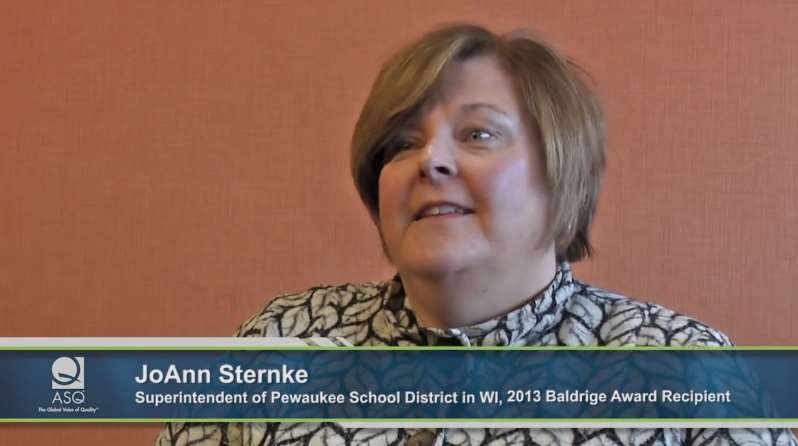 VIDEO: In this interview, JoAnn Sternke, superintendent of the Pewaukee School District, reflects on PSD's road to receiving the prestigious 2013 Malcolm Baldrige National Quality Award—the United States' highest honor for quality and performance excellence. Sternke explains how the systematic approach made the school district more innovative, agile and data driven. Click here to view the video ...
Find More Case Studies
Search Examples of Quality Success in Education
The ASQ case study collection contains more than 1,700 examples of quality solutions to real-world problems. Find other case studies in the education industry to learn about how schools are using quality tools and approaches to improve processes, save money, and enhance student outcomes.
Pewaukee School District Case Study Highlights
About Pewaukee School District
The Pewaukee School District (PSD) is located 25 miles west of Milwaukee, WI, in a single-campus setting that includes one high school, one middle school, and two elementary schools. This growing district of about 2,800 students is served by 310 staff members under the leadership of 2013 Wisconsin Superintendent of the Year, Dr. JoAnn Sternke. Newsweek magazine ranked Pewaukee High in the top 6 percent of high schools nationwide in 2013, and The Washington Post named the school as one of the most challenging high schools in the nation for that same year.
Building the Baldrige Culture
The little engine known as PSD began its journey toward the Baldrige Award a decade ago when a member of its school board gave Sternke a copy of the Malcolm Baldrige Criteria for Performance Excellence. Sternke understood the criteria could provide a framework for continuously improving processes throughout the district. She and her leadership team decided to use the Baldrige Criteria as a road map for aligning and deploying improvements across all schools and departments. She recalled the first stages of the journey were really a "homespun" effort without the luxuries of large databases or a designated quality director. "We simply taught ourselves to build Excel spreadsheets and create our own databases," she said. Another key to early momentum was the decision to have everyone on the administrative team complete training as an examiner for the Wisconsin Forward Award (WFA), the state's Baldrige-based recognition program. This was done for two reasons:
The opportunity to "pay it forward" by supporting the quality efforts of other organizations in the state

To build a familiarity with the Baldrige process and thus create a common language of improvement among senior leaders
There are three levels to the WFA recognition process, as explained below according to the Wisconsin Center for Performance Excellence:
Proficiency

– This is an intermediate level for organizations effectively using continuous improvement principles and practices. Recognition at this level is provided to organizations that demonstrate progress in constructing sound and noteworthy processes.

Mastery

– This is an advanced level for organizations that show through their skillful practice of performance management principles, significant progress in expanding their capabilities through improved processes of all kinds.

Excellence

– The highest level of achievement, the Forward Award for Excellence, is presented to organizations that demonstrate excellence through their quality practices and achievements. Recognition at this level is provided to organizations that are outstanding examples of quality enterprises in Wisconsin, and that can serve as role models for others.
Improved Process Leads to Stellar Results
After submitting applications for the Baldrige Award in 2010 and 2012, the district was awarded a site visit for its 2013 application. This evaluation process for the award recipients included nearly 1,000 hours of review and an on-site visit by a team of examiners to clarify questions and verify information reported in the application.
Finally, after years of hard work and determination, PSD received the 2013 Baldrige Award.
While earning this prestigious award provided well-deserved recognition, Sternke and her team say PSD's most important results are tied to student success, as evidenced by the district's recent graduation rates, for example. The district achieved a 97.4 percent graduation rate for the 2012–13 school year, and achieved a higher graduation rate from 2008 through 2012 than county, state, and nearby school district averages, as shown in Figure 1.
Looking Forward
PDS's quality journey did not stop once it earned the national award. While Baldrige rules prevent award recipients from reapplying for five years, Sternke sees other opportunities to challenge and extend the district's improvement journey. "I'm really intrigued with leveraging the International Team Excellence Award Process that ASQ puts forward for organizations and schools," she said. "I think there is the opportunity to use that process even more at the teacher and classroom levels, and I would like to focus on this next."
For more information
About the Author
Janet Jacobsen is a freelance writer specializing in quality and compliance topics. A graduate of Drake University, she resides in Cedar Rapids, IA.