Doctors, Nurses Overcome Workplace Hierarchies to Improve Patient Experience Scores in Phoenix ER
by Adam Wise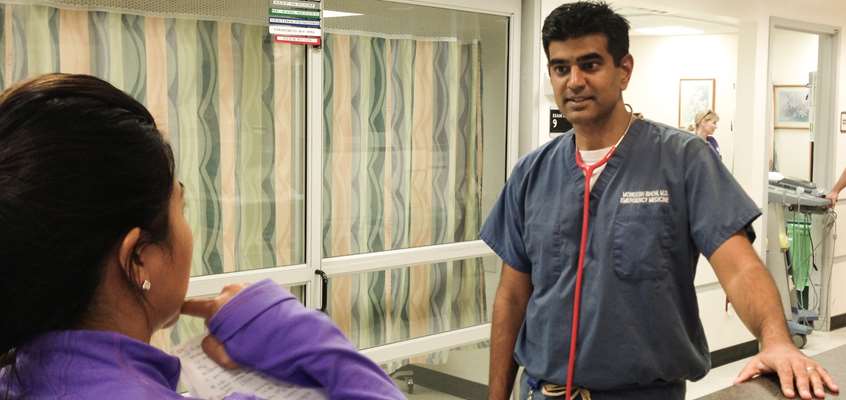 Doctors and nurses have worked together for centuries, saving and prolonging countless lives in healthcare facilities around the world. And as in so many other professions featuring rich and deep-rooted histories, hierarchies created long ago have been assumed by modern-day caregivers.
So it was no surprise when emergency medicine leaders in Phoenix, AZ, initially struggled in trying to improve their medical facility's patient experience scores. But by focusing on the heart of the matter, and successfully selling a culture of quality to staff, they helped employees overcome social norms to achieve success for the organization and, most importantly, the patient.
Case Study Components
Learn how doctors and nurses within Banner Health overcame cultural difficulties to identify and implement multiple process improvements within their emergency departments.
Download the Case Study (PDF).
Find More Case Studies
Search Examples of Quality Success in Healthcare
The ASQ case study collection contains more than 1,700 examples of quality solutions to real-world problems. Find more case studies in the healthcare industry to learn about how organizations around the world are using quality tools and approaches to improve processes, save money and drive revenue, and increase customer satisfaction.
About Banner Health and the Emergency Physician Insurance Program
Banner Health, a nonprofit healthcare provider, encompasses 24 acute-care hospitals and healthcare facilities in seven states (Alaska, Arizona, California, Colorado, Nebraska, Nevada, and Wyoming) while employing more than 36,000 individuals. Located in Phoenix, Banner Good Samaritan Medical Center is a Level One trauma hospital that provides services to more than 60,000 patients annually.
The Emergency Physician Insurance Program (EPIP) is a partnership between Banner Health, Emergency Professional Services, North Valley Emergency Services, and Progressive Medical Associates. EPIP, established in 2003, addresses challenges involving malpractice coverage, while reducing the cost of malpractice coverage and overall risk found in five Banner Health emergency departments.
The Case Study at a Glance
Understanding the importance of positive patient experiences, EPIP created staff leadership groups, or vision teams, that sought to achieve better patient interactions, communications, and outcomes while also decreasing risk of malpractice. A vision team composed of Banner Health physicians in Arizona was tasked with studying how staff could improve patient experience scores and reduce litigation risks.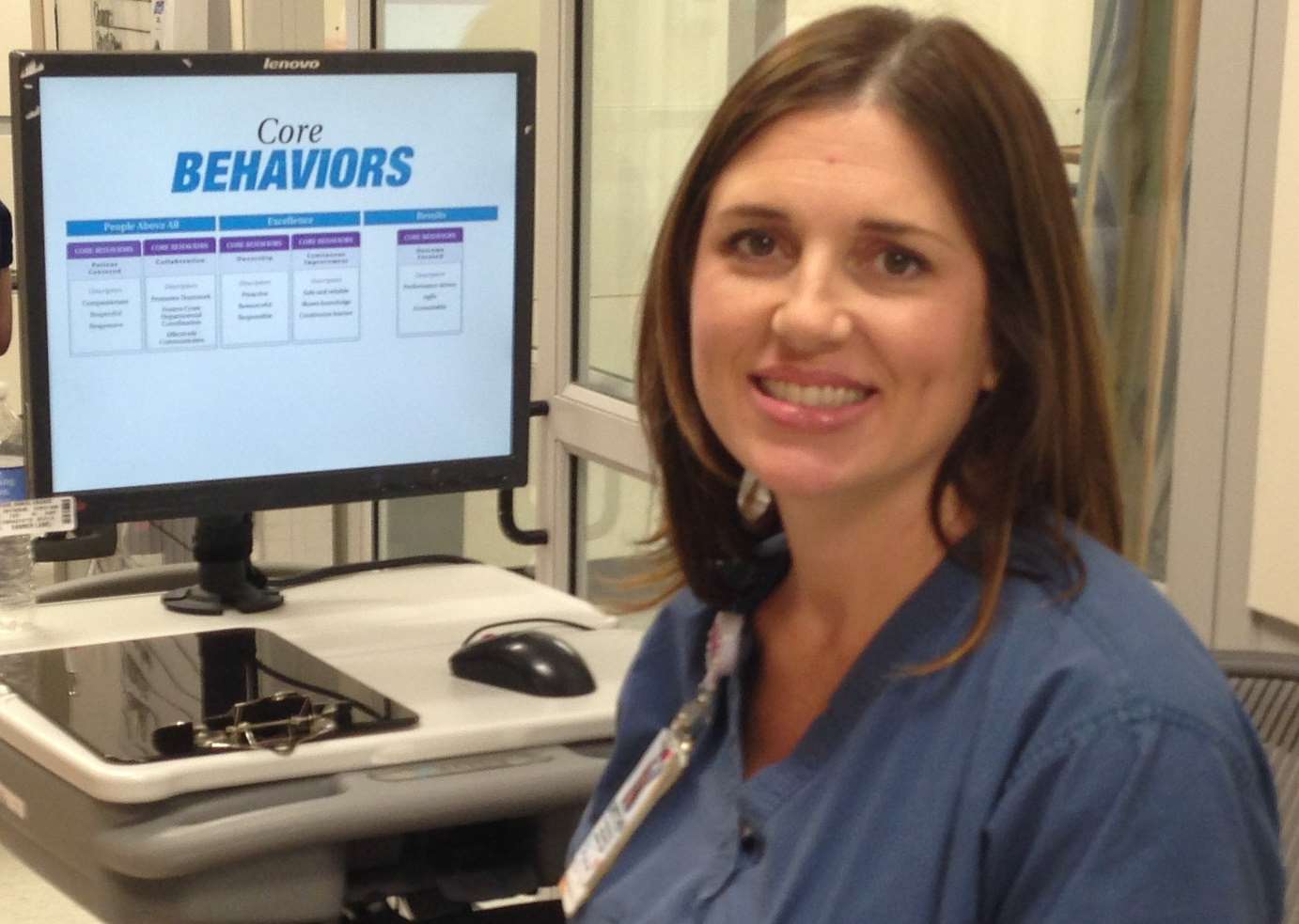 Dr. Moneesh Bhow, medical director at Banner Good Samaritan Emergency Department, and the rest of the Patient Experience Vision Team, began a near two-year process of digging into the patient survey data. But Bhow quickly recognized an integral piece to the puzzle was missing from the physician-only vision team: nurses. At Good Samaritan, like many medical facilities, Bhow said a culture exists that creates a sort of separation between doctors and nurses.
Gretchen Dallman, a nurse manager within the emergency department, agreed that motivating the two sides to work together and create positive experiences was a cultural change that was not going to be easy or happen overnight.
Using the define, measure, analyze, improve, and control (DMAIC) approach and Pareto analysis of patient experience data, team leaders learned:
Part of the problem was the lag time from when the patient left the facility to when staff received feedback through mailed surveys.
Many unhappy patients, regardless of the care they received, felt there was a lack of communication between doctors and nurses.
Figure 1 shows the team's complaint analysis.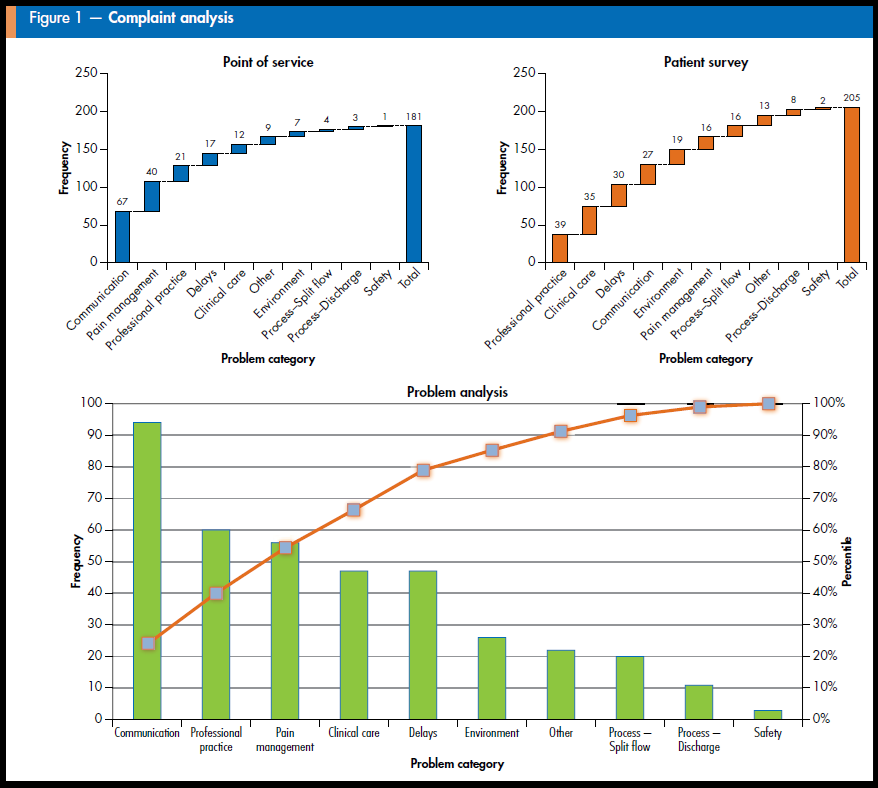 To address these issues, the patient experience team implemented the following process improvements:
Created a realtime, point-of-service survey program to improve the reaction capabilities for the staff to make meaningful strides in helping unhappy or distressed patients.
Moved doctor-nurse conversations to the bedside.
Introduced "story time" within preshift meetings, during which staff members shared tales of patient care victories, large and small.
Beyond the data collection and analysis, the patient experience team also focused on the emotional side of the equation, specifically as relates to staff. A major focal point of the improvement project was centered on engaging the clinician. A culture change had to take place, Dallman said, so the vision team turned its scope away from the patients and onto themselves.
As a result of process improvements, patients are now 89 percent less likely to file a complaint when a physician or nurse addresses any concerns prior to discharge, which ultimately helps curb the risk of litigation.
For More Information