Six Sigma Optimization of Mystery Shopping: A Hypothetical Case Study on the Nigerian Banking Industry
by Tewogbade Shakir
Mystery shopping (MS) is a tool used externally or internally to measure the quality of service and compliance with standards and regulations. It can increase employee awareness about the customer to improve customer satisfaction and deliver excellent service, which in turn increases sales and reduces risk exposure.
In the MS process, parameters such as staff attitude, knowledge index, turnaround time, and empathy are tested to monitor service delivery performance. A quality defect is the difference between expected and observed variants. Operational opportunities that could cause defects are the total number of service operators tested by mystery shoppers.
Case Study At a Glance . . .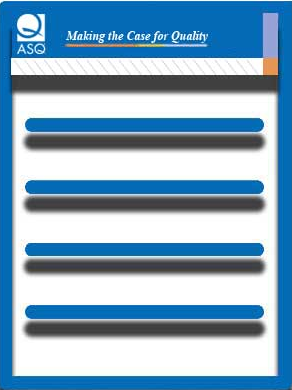 -Mystery shopping (MS) can be a very valuable exercise for studying and evaluating service delivery performance within the banking industry.
-Using Six Sigma tools and hypothetical data, this case study tests the approach and results to gauge poor service from excellent service delivery.
-The MS approach is highly applicable as a balanced scorecard parameter to measure delivery within service centers.
Download the entire case study (PDF) or continue reading below.


Find More Case Studies
Search Examples of Quality Success in Service
The ASQ case study collection contains more than 1,700 examples of quality solutions to real-world problems. Find other case studies in the service industry to learn about how organizations around the world are using quality tools and other quality techniques to improve processes, save money, drive revenue, and increase customer satisfaction.
Mystery Shopping Case Study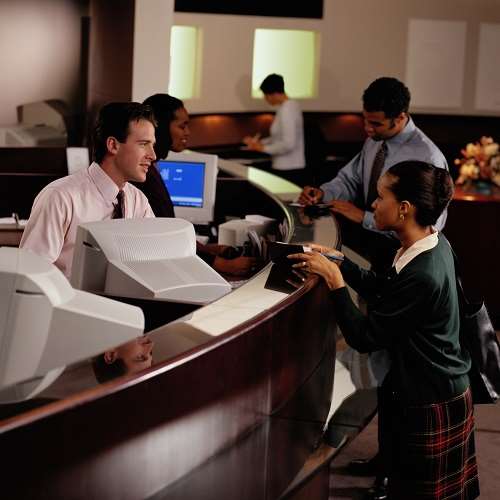 MS metrics have often been used directly in bank branch scorecards. With the use of defects per million opportunities (DPMO) and sigma level, the metrics can be enhanced. The level of statistical robustness is further improved with the application of rolled throughput yield (RTY) to optimize quarter-on-quarter MS results.
This case study presents hypothetical data to test Six Sigma process metrics in MS. The results show great variance between poor and excellent service delivery in accordance with sigma level. The methodology used in this case study can be applied in any service-rendering organizations that intend to use the MS approach in measuring service delivery performance.
Background
Most Nigerian banks strengthened their capital base during the consolidation era from 2005 to 2006. With consolidation, expectations on the part of the banks increased, with benefits from synergies, human and material resources, and information technology. Expectations from the service delivery perspective have further increased competition among banks.
Customers now seek excellent service delivery to make deposits, process transfers, withdraw funds, use debit/credit cards, open accounts, and apply for loans. To enhance awareness among branch personnel and reinvigorate performance, many banks have introduced the MS tool. This is used to track both emotional and technical attributes exhibited by service operators in delivering excellent service to customers.
MS metrics address attributes ranging from greeting, eye contact, and attention to product knowledge. The metrics are recorded on a monthly basis, while they are used quarter-on-quarter in a financial year.
Methodology
Many Six Sigma metrics are based on understanding defects in features or attributes in product, process flow, or service delivery. Defect rates can be used to track quality performance. In the MS exercise, defects per operator opportunities will determine if a service outlet is delivering service to a high level with ease. The following metrics will be considered in this paper:
Defects per million opportunities (DPMO)

Rolled throughput yield (RTY) quarter-on-quarter

Sigma level
DPMO
DPMO is a measure of the number of defects occurring in a business process. It simply expresses how process flow, service, or product is performing in relation to quality defects. DPMO is the total number of defects in a population divided by the total number of opportunities, multiplied by a factor of 1 million. Explicitly, it shows the probability of items (attributes) with zero defects, where opportunities for defects can vary. In this MS example, the number of processors contacted yields the total number of defect opportunities:
Opportunities = Total number of
service processors queried by MS
The opportunities factor normalizes the varying number of service processors contacted in different service outlets. It indicates the chance of a processor proffering positive attributes to avoid faults (defects).

Typical technical and emotional attributes tested in an MS exercise, including the weighted point score, are included in Tables 1 and 2:
Consideration is made for attribute weights, and the weight rate is often decided by management or the MS project owner in accordance with business/enterprise objectives. Weight distribution can be linear or nonlinear. The opportunities treatment will be the same for both distributions.
Processors' responses are rated from bad to excellent, using a scale of 0 to 10 points. Mystery shopping is a subjective approach and such rating allows attributes to be scalable. The aim of the wide gap is to easily separate bad service delivery from excellent attributes.
Rolled Throughput Yield (RTY)
Financial years include 12 months, which are segmented into four quarters. Since human behavior is nonmechanical and varies with time, DPMO attributes will vary quarter-on-quarter. This effect is normalized using RTY; thus, MS results and service performance are monitored as the financial year progresses.
RTY will measure overall quality level of Qn+1 on Qn for each service outlet:

Continue Reading ...
To continue reading this case study to learn how mystery shopping can be used to assess customer service performance, download the entire PDF.
For more information
About the Author
Tewogbade Shakir works in the financial industry in Nigeria. He has a bachelor of science degree in physics from the University of Lagos, Nigeria. He is currently working on the thesis for his master's degree in information technology. A member of ASQ and the Project Management Institute, Shakir is a Six Sigma Yellow Belt, an ASQ Certified Quality Improvement Associate (CQIA), and a PMI Certified Associate in Project Management.