India-based Life Insurer Improves Customer Retention Through Six Sigma, Quality Tools
by Adam Wise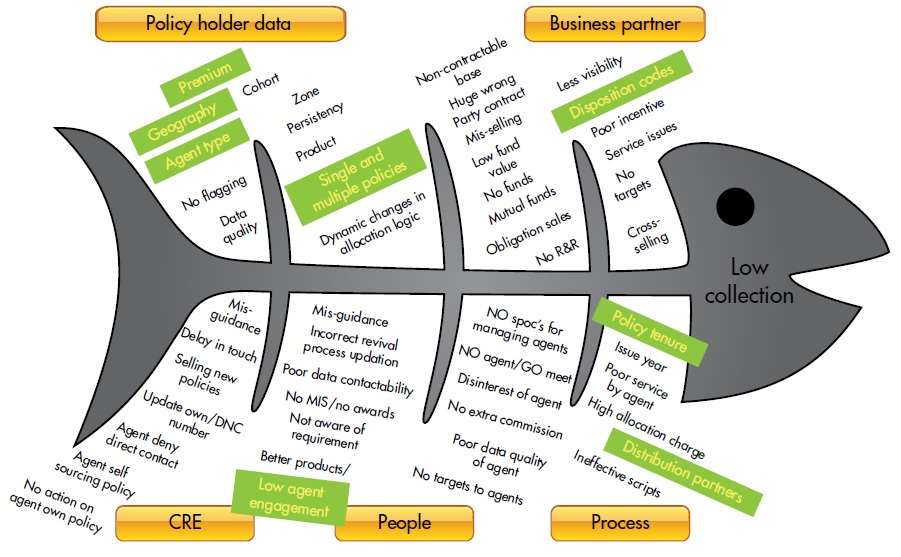 Max Life Fishbone diagram of 57 potential root causes
When an organization's vision and purpose is publicized as being the most admired corporation for service excellence by local citizens, maintaining a high customer retention rate must be a priority. While attracting new business is a critical component to long-term success, organizations will not reach maximum profitability when failing to retain large swathes of its own customers.
In the insurance industry, some customer policies will inevitably lapse, or expire, without payment. If sales agents lack the requisite drive to recover the business from these individuals, the organization's retention rate will suffer. So when agents for one India-based life insurance company became more focused on attracting new customers than keeping old ones—retaining less than 1 percent of all lapsed policyholders—company leaders initiated a year-long quality project to identify why customers were not renewing, and how best to regain their business.
Achieving quality success from such a project would mean gaining millions of dollars in what would be lost revenue.

Case Study At a Glance . . .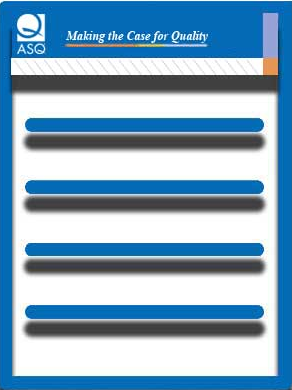 -Recognizing their company's customer retention rate dipped below acceptable levels, Max Life Insurance Company leaders initiated the quality improvement project, Unnati, to reclaim lapsed policyholders.
-Using Six Sigma and quality tools, team members identified more than one dozen possible solutions for sales agents to improve relationships with customers and recoup their business.
-The improvement project nearly tripled Max Life's customer retention rate while generating more than $8.6 million in revenue.
Download the entire case study(PDF) or continue reading below for project highlights.
Find More Case Studies
Search Examples of Quality Success in Service
The ASQ case study collection contains more than 1,700 examples of quality solutions to real-world problems. Find other case studies in the service industry to learn about how organizations around the world are using quality tools and approaches to improve processes, save money, and increase customer satisfaction.
Max Life Case Study Highlights
About Max Life Insurance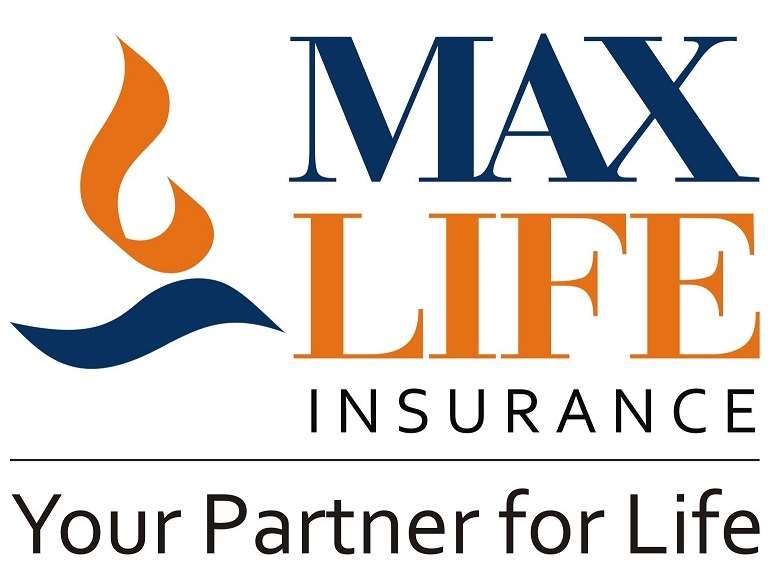 Founded in 2000 and headquartered in New Delhi, India, Max Life Insurance Co. Ltd. (Max Life) is the largest and fastest growing nonbank-owned private life insurer in India. With a capital base of $3.9 billion, Max Life manages more than $37.9 billion in assets. Max Life is a joint venture between Max India Limited and Mitsui Sumitomo Insurance Co. Ltd., and was certified to both ISO 9001:2000 and ISO 9001:2008.
Organizational Growth Highlights New Challenge
Like all young organizations, Max Life's early years focused on identifying and attracting new business. Money from new customers dominated the company's revenue stream for eight years, always growing from the previous year, until the trend shifted in 2009 and renewal income became the primary source of revenue. Renewals increased from 45 percent of annual revenues in 2008 to 56 percent in 2009, followed by 67 percent and 73 percent in 2010 and 2011, respectively.
A life insurance policy is a long-term contract between an insurance company and the insured individual (policyholder). The payment of premium toward a regular policy—which can be on a payment schedule of monthly, quarterly, semi-annually, or annually—is spread over the premium paying term of the policy. Max Life provides policyholders grace periods of 15 to 30 days on their due dates, depending on the payment schedule. If at the end of the grace period a premium is still not paid, the insurance policy lapses effective as of the first unpaid premium (FUP). Customers can revive lapsed policies, though the company reserves the right to accept or reject the revival, or revive the policy on modified terms. Max Life follows a process of revival that depends on the period elapsed since the date of FUP, and also based on the health conditions of the life assured at the time of revival.
Despite the fact that renewing customers comprised a major portion of the company's revenue stream, Max Life leaders still saw millions of dollars being squandered every year to lapsed policies.
Identifying Opportunities for Improvement
As part of Max Life's ongoing commitment to excellence, leaders undertake an annual exercise to identify organizational improvement opportunities. Factors used to identify the improvement opportunities include customer and distributor satisfaction survey data.
Multiple quality tools were used during the project identification process to help determine the greatest organizational need with best possible outcomes, including process mapping, SWOT analysis, and critical to quality (CTQ) trees. Using Pareto analysis, company leaders zeroed in on lapse recovery, which achieved an impact evaluation of 71 points as the highest priority improvement project opportunity. Leaders called it Project Unnati, an Indian term meaning progress.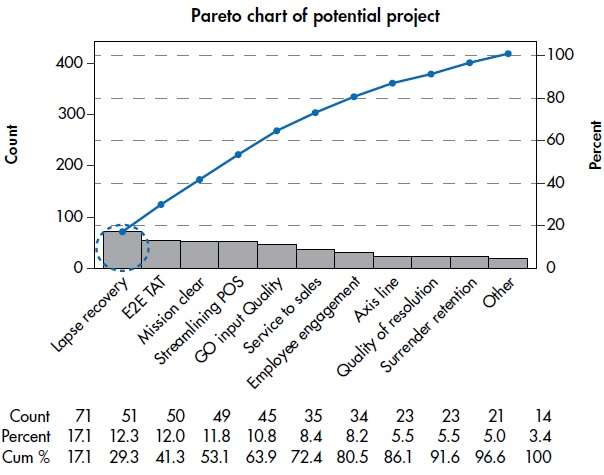 Jumpstarting the Customer Recovery Process
Using a fishbone diagram (see image at the top of the page), the team brainstormed 57 possible root causes for the high-lapse data. Potential causes included data quality, low agent engagement, poor incentives, and service issues. Subject matter experts and Max Life customers provided stakeholder feedback during the root cause identification stage. The team received the feedback through focus group meetings, customer call listening analysis, and complaint trends.
About 500 customers were sampled, with the individuals sharing a variety of reasons why their policies had lapsed, including:
"I am not satisfied with the product sold to me."
"My agent has not got in touch with me after I bought the policy."
"Your process is too complicated. I don't want to pay for medicals."
By brainstorming and benchmarking, which included site visits to other organizations within the industry, team members generated 23 possible solutions to the seven root causes: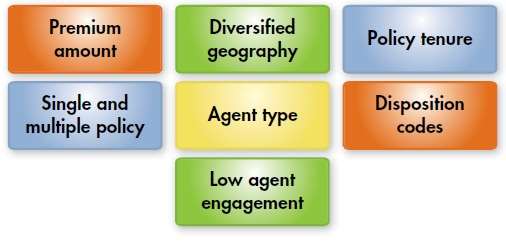 Results
There were numerous positive improvements achieved through Project Unnati, but likely none more important than the company's improved collection rate. The team surpassed expectations by improving the rate from 0.90 percent to 2.54 percent.
Max Life Insurance broke its own records by generating more than $8.6 million in revenue via Project Unnati, while also becoming best in industry with a conservation ratio of 84 percent (source: Insurance Regulatory and Development Authority), a key measure tracked within the Indian insurance industry that indicates conservation/lapsation of old business.
"We were able to achieve all of our internal targets," said Divya Tuteja, senior manager at Max Life. "We saw a surge in customer satisfaction scores as we saw the Top 2 box score increase from 46 to 51, with a significant drop in Bottom 2 box. Other parameters like ease of paying, call quality scores, and CTQ scores also showed encouraging results."
As of December 2012, more than a year after the improvement project ended, Max Life had maintained a high collection percentage of 2.14.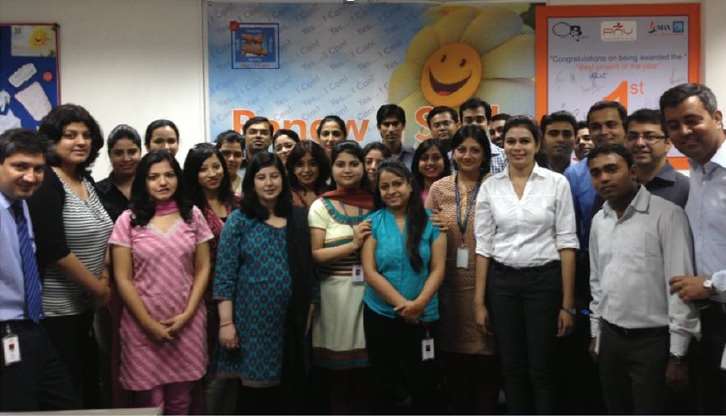 Max Life Insurance team photo
For more information