New Zealand Port Company Stems Tide of Overdue IT Tickets
by Janet Jacobsen
"Once people understood the initiative wasn't a short-term thing and it was going to
stick around, they became more engaged and interested in achieving the goal."
- Matt Cammell, IT service desk team lead, Ports of Auckland
When employees at the Ports of Auckland experience information technology (IT) issues, they expect the organization's IT department to address and resolve the problems quickly so they can resume normal work activities. If time-consuming delays ensue, especially with high-priority cases, employees might become dissatisfied since inconsistent service response times create frustration and dissatisfaction among the internal customers. To quell such concerns, the Ports of Auckland aimed to slash its number of overdue call tickets in half.
Case Study At a Glance . . .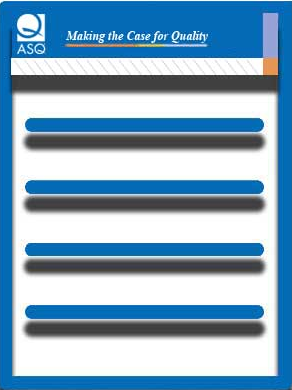 -The Ports of Auckland aimed to reduce the number of IT call tickets that are not completed within agreed-upon timeframes.
-To accomplish this, the organization initiated a Six Sigma project to modify the ticket process.
-By using Six Sigma tools, the team improved customer service, communication, and prioritization.
-As a result, the project realized a 50 percent reduction in past-due IT tickets during a sustained period.
Download the entire case study (PDF) or continue reading below for highlights from the improvement project.
Find More Case Studies
Search Examples of Quality Success in Service
The ASQ case study collection contains more than 1,700 examples of quality solutions to real-world problems. Find other case studies in the service industry to learn about how organizations around the world are using quality tools and approaches to improve processes, save money and drive revenue, and increase customer satisfaction.
Ports of Auckland Case Study Highlights
About Ports of Auckland

Ports of Auckland (POAL) is the port for New Zealand's largest city. It provides a full range of cargo-handling and logistics services near the city's primary business district. It handled 818,000 20-foot-equivalent container units in 2012-13, and is the country's primary exchange port for cruise ships and vehicle imports. Ports of Auckland employs more than 400 full-time staff and is open 24 hours a day, seven days a week.
Common Ticket Requests
The following is a list of common IT ticket requests the Ports of Auckland tech experts field from employees within the company, along with the expected timeframe for completion.
Request for a new user setup, new computer (one week)
Existing computer needs replacing, application fault (one day)
Data not coming through from tide or wind gauges, laptop not working (one hour by default)
Failure to turn on, straddle terminal not working (one hour)
Supplier, inputs, process, customer diagram for call ticket process
Once the project team completed its Six Sigma training, members quickly began work on the define stage of the project, creating a supplier, inputs, process, outputs, customer (SIPOC) diagram to chart the current ticket process, which can be seen below.
Tangible Benefit Calculations for the Project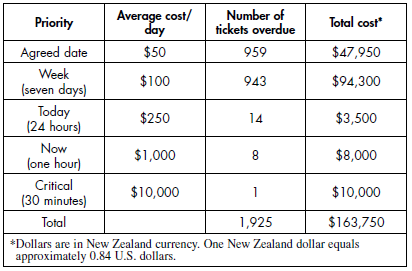 By reviewing weekly reports from the ticketing software, the project team gathered data on overdue ticket requests both by volume and priority. After gathering data, the team calculated the cost per day of 1,925 overdue tickets from a total of 4,281 that took place during a span of 25 weeks. The table beside illustrates the team's findings.
Exact cost values were to be validated by the accounts department.
Identifying Solutions
After additional data and mapping work, the team used brainstorming and ordering activities to pinpoint the highest-impact opportunities for improvement. They focused on selecting the easiest and lowest-cost options and then formulated solutions around these options. The following solutions were selected:
Revise the priority matrix to incorporate clearer wording regarding impact and urgency levels. Add timeframes to simplify response expectations.
Focus the IT group ticket process improvement on six points (communication, updates, priority, ticket creation, ownership, and alerts) to address more than 90 percent of overdue causes.
Refine the ticket process to improve communication by ensuring that requesters are kept up to date during the ticket lifespan. Match the closure method (phone call or email) to the customer's preference.
Implement a live automated ticket report and publish it live. Make this live reporting available to the entire IT department as well as the Executive Team, which includes the chief executive officer and several senior managers.
Ports of Auckland's Results:
The number of overdue tickets dropped dramatically from an average of 77 per week to an average of 16 once the solutions were implemented
Costs were lowered by more than $150,000
Process sigma improved from 2.84 to 3.57
(Images courtesy of Ports of Auckland)
Related Resources