North Carolina School District Overcomes Admin Turnover, Budget Cuts to Fuel Improvement
by Melanie Taylor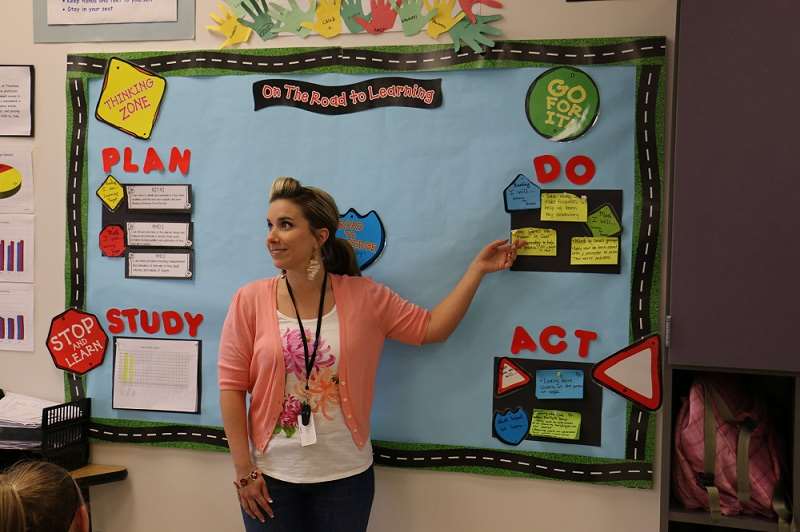 Keri Bass, fourth-grade teacher at Troutman Elementary School (N.C.)
The last decade has brought many changes to Iredell-Statesville Schools (I-SS) in North Carolina. In 2002, the district embarked on its journey to continuous improvement by using the Baldrige Criteria for Performance Excellence. Since the district received the Malcolm Baldrige National Quality Award in 2008, the district has seen a change in superintendent and a decline of more than $7 million dollars in state and local funds, which led to a reduction of more than 300 positions districtwide.

Revisit the 2008 case study on Iredell-Statesville Schools' Baldrige journey.
Despite the drastic changes, some things have stayed the same. The district's strategic plan and core values still guide the work of the board, departments, and schools on a daily basis. Over this same time period, the district has continued to see student performance and graduation rates increase. The district consistently performs in the top 10 to 20 percent of school districts in North Carolina for student performance measures, while it consistently ranks in the bottom 5 to 10 percent of districts in the state for per-pupil funding.
How has the district been able to maintain and grow student achievement throughout all of these changes? Its unwavering focus to ignite a passion for learning for all students.

Case Study At a Glance . . .
After working for more than five years to meet its quality success goal, Iredell-Statesville Schools (North Carolina) was named a Malcolm Baldrige National Quality Award recipient in 2008.

But when a key administrator left his job soon after and the national economic recession clamped tight on public money coming into the school district, the staff's commitment to continuous improvement was challenged more than ever before.

Firmly committed to the Plan-do-study-act (PDSA) cycle and other quality tools, staff have streamlined processes, saved hundreds of thousands of dollars, and helped students achieve more in the classroom than ever before.
Download the entire case study (PDF) or continue reading below for project highlights.
Find More Case Studies
Search Examples of Quality Success in Education
The ASQ case study collection contains more than 1,700 examples of quality solutions to real-world problems. Find other case studies in the education industry to learn about how schools are using quality tools and approaches to improve processes, save money, and enhance student outcomes.
Iredell-Statesville Case Study Highlights
About Iredell-Statesville Schools
Located about 40 miles north of Charlotte, NC, Iredell-Statesville Schools serves more than 21,000 students in 36 schools. Forty-three percent of the school district's students qualify for free or reduced priced meals. There are 44 different languages spoken by 2,273 students, with 1,015 students having limited English-language proficiency throughout the district.
Improving Despite Decreasing Means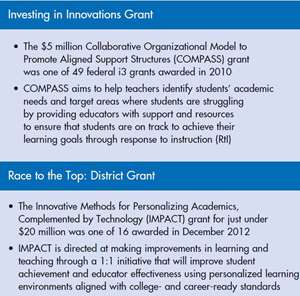 During times of declining budgets, increased diversity, and competition from charter schools, I-SS has continued to grow. The district has added opportunities for students that include middle years and International Baccalaureate diploma programs, a dual language immersion program, early college options, an AP Academy, Leader in Me schools, and career programs leading to nationally recognized certifications. I-SS is also the only school district in the nation to receive both an Investing in Innovations (i3) grant of $5 million (2010) and a federal Race to the Top District grant of $19.9 million (2012).
Doing Things the I-SS Way
The I-SS model centers on the district's two triangles. The model for aligned, effective, and efficient operations, as seen in Figure 1, and the model to raise achievement and close gaps, in Figure 2, guide the district's operations and curriculum. Both of these models contain five questions that drive the work of the departments and are grounded on the district's mission, vision, core values, data-driven decision making, and use of PDSA.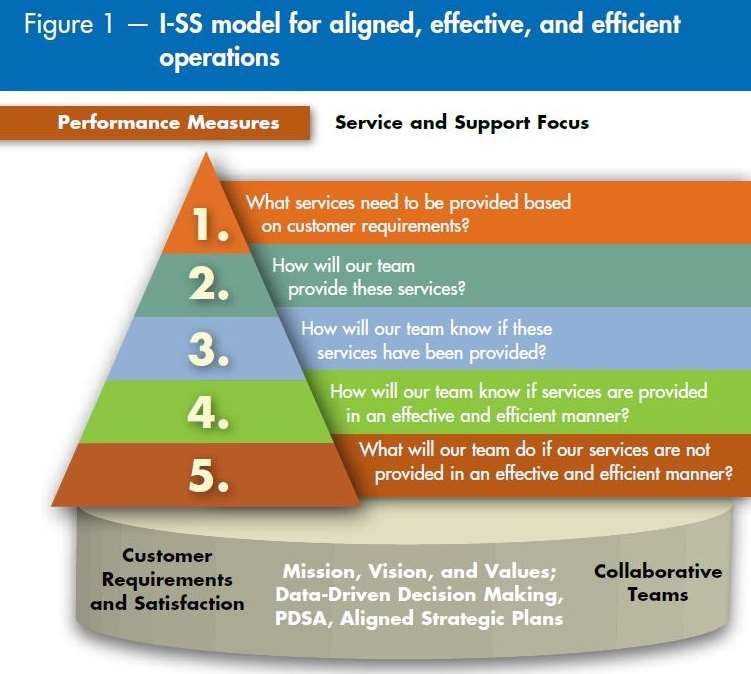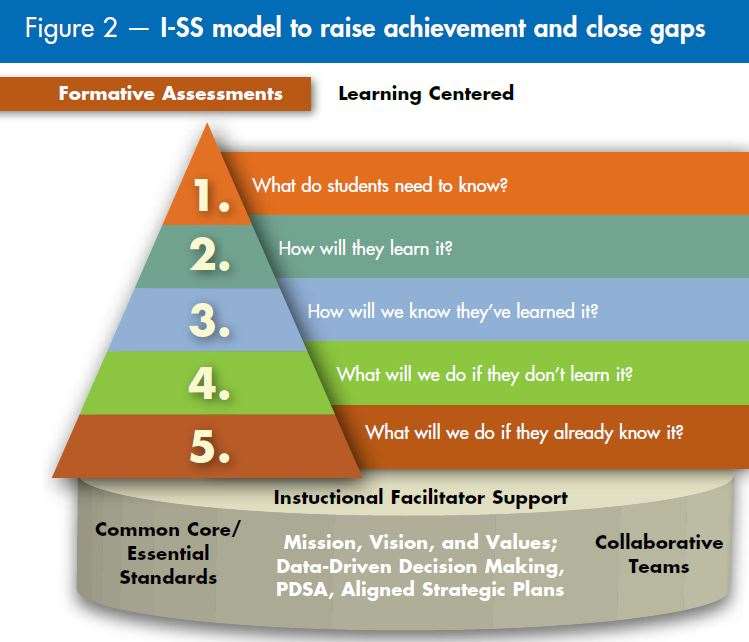 The district's strategic plan sets the course for where the district is headed in five areas. Staff within each school and department then develops improvement plans that are aligned to specific gap areas in the district strategic plan. The PDSA cycle is used for all levels of organizational improvement.
Large-scale district plans are monitored on a 90- to 100-day cycle to determine if progress is being made toward identified goals. More frequent monitoring of school- and department-level data occurs as data are received by the organization. This frequent monitoring allows for midcourse changes to be made if needed.
The Evolution of Quality at I-SS
At the school level, individual grades or subject area teams and classrooms use the PDSA process to monitor student learning. The use of the PDSA at this level allows students to become more engaged in the learning process. Students share what learning strategies work for them and become better problem solvers and collaborators in the process. The student and classroom PDSAs engage students in the planning and problem-solving areas so they learn to work together to improve individual and group performance. Figure 3 is an example of the steps included in a classroom PDSA: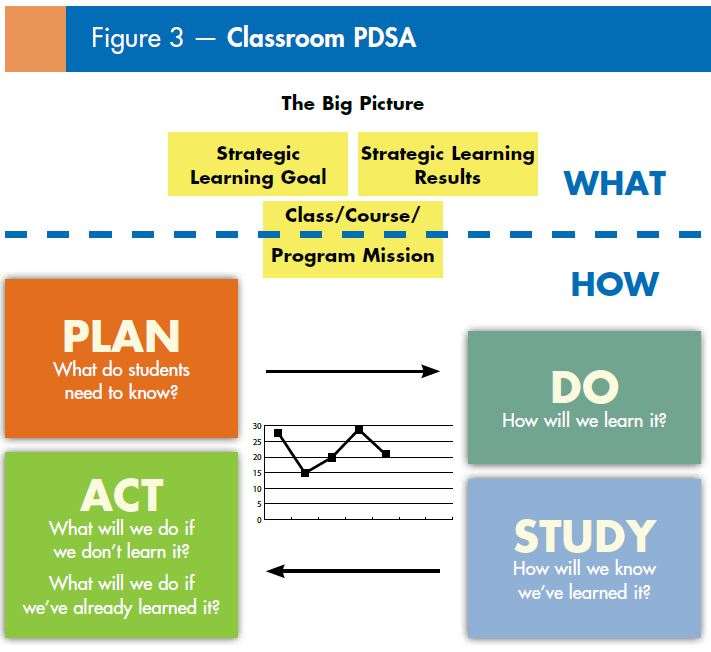 There is now a separate PDSA template used for department and school improvement plans outlining the goals, approach, deployment, and monitoring of the plan. Classrooms have moved to a PDSA that is more age and subject appropriate while still including all of the process components. These changes have allowed for more innovation and ownership by teachers and students.
Each school is staffed with an instructional facilitator (IF). Originally, the role of the IF was designed to help with the coaching of the PDSA and the use of data. After a decade of use, staff is now more adept with data-driven decision making and the PDSA process. Director of curriculum support, Kim Rector, notes that, "The work of the IF has evolved over time to match the growth and needs of our teachers instructionally. We've moved from training continuous improvement processes and tools, to training teachers how to use data and information, to target what students need and improve their instruction. We're finally able to give specific support to teachers and PLCs that directly impacts students."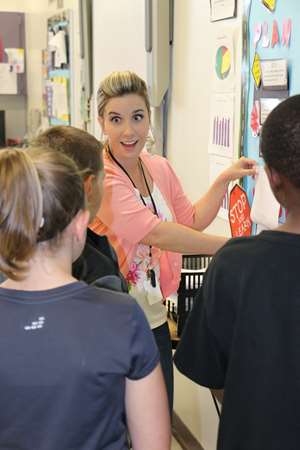 IFs now apply the continuous model knowledge to the RtI process. In 2010, I-SS received a prestigious i3 "Investing in Innovation" grant from the U.S. Department of Education. The grant focused on aligning specialists (including the IFs) who worked with teachers at all schools. As a result of the grant, our schools began hosting "Data Days," where teachers review student academic performance and progress-monitoring data, along with other measures like attendance and discipline referrals, and use that data to select evidence-based interventions that help students reach specific, measurable goals.
The Results ... So Far
During the last 12 years, Iredell-Statesville Schools rebuilt its fund balance from -$2.5 million to more than $11 million in 2012 by aligning and more closely monitoring processes. A district that was once mired in financial question had its seventh consecutive year with zero audit findings. All of this has helped the district to weather other funding cuts occurring at the state and local levels affecting budget and personnel.
Despite personnel cuts and funding at some of the lowest levels in North Carolina, Iredell-Statesville Schools has continued to grow programs and student achievement. In 2013, 88.1 percent of students graduated and received more than $22.5 million in scholarship offers. SAT and ACT scores ranked ninth in the state out of 115 school districts.
As everyone in Iredell-Statesville Schools realizes, the journey to improvement is not a destination at which you arrive and rest easy, it is a continuous process.
For more information
To learn more about the continuous improvement efforts in Iredell-Statesville Schools, visit www.iss.k12.nc.us.

To receive more information about this case study, contact the district's public information office by calling 704-924-2032.

Learn more about ASQ case studies
About the Author
Melanie Taylor is the deputy superintendent of curriculum and instruction at Iredell-Statesville Schools. She earned bachelor's degrees in business/marketing education and business management from the University of North Carolina-Greensboro, a master's degree in education administration, and a doctorate in educational leadership from the University of North Carolina-Charlotte. With 23 years of experience in education, Taylor has previously served as a middle school teacher, elementary assistant principal and principal, and executive director of elementary/Title I.