The Corning Journey to Performance Excellence: Innovation Spanning Three Centuries, Part I
by James Buckman and Mary Beth Buckman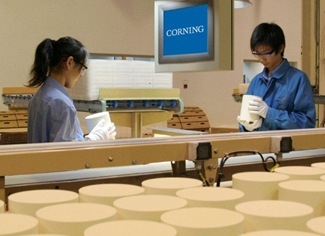 Part I of this case study, presented below, describes the situation analysis, posing the challenges that Corning faced in its sustainable performance excellence journey.

Part II continues by detailing the implementation activities of the Corning performance excellence team, along with the results they achieved.
Corning Inc. was founded in 1851 – more than 160 years ago. It is today, and has been for its long history, a company providing solutions with glass. One of the first companies in the U.S. to institutionalize research and development as a key business strategy, Corning is known for innovations in the development of glass products and glass- and ceramics-based applications.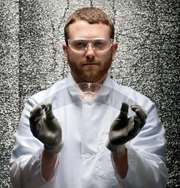 Many will be familiar with Corning because of Gorilla® Glass, a tough and damage-resistant application for touch screens on smartphones, tablets, slates, notebooks, and televisions. Corning also makes telecommunications products such as optical fiber and cable connections systems that link people and businesses worldwide. In addition, the company innovates and manufactures products for the health and environmental industries. Some of Corning's more specialized products have included mirrors for state-of-the art telescopes and windows used in NASA's space capsules and shuttles as well as the international space station. (See the Corning Innovation Timeline.)
A commitment to manufacturing the products it invents has been a key part of Corning's approach to serving consumer and industrial markets throughout the world for the past 160-plus years. For example, Corning was the first producer of the electric light bulb while working with Thomas Edison, and later, it became a manufacturer of the bulbs and cathode ray tubes that went into televisions.
The company was incorporated in 1936 and is listed on the New York Stock Exchange with a symbol of GLW, which refers to the company's former name of Corning Glass Works.

The Pursuit of Total Quality Begins
James (Jamie) R. Houghton, a descendant of Corning's founding family, served his first term as CEO from 1983 to 1996. During this time, he introduced the concept of total quality management to the company. Table 1 provides a summary view of this quality journey that continues today.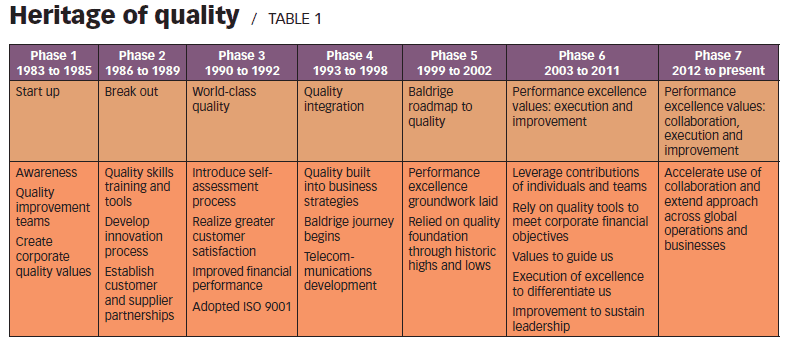 In the early 1980s, Corning joined Motorola, Ford, Xerox, Milliken, AT&T, Cargill, and other pioneering businesses in the pursuit of quality methodology to increase value. While the methods and concepts varied from one organization to another, a few recurring concepts emerged:
Attack on all fronts; everyone needs to be engaged. Quality has to be a total effort.
Develop small teams that attack projects by fixing processes across company operations.
Tools of quality, such as Pareto analysis, fishbone diagrams, and statistical control charts, are taught, learned, and used by many teams.
Among early adopters, the "attack on a broad front" strategy, which is implicit in the phrase total quality, requires the complete support of the CEO.

See the accompanying instructors' materials for more on how these concepts helped form the "Foundations of Greatness" for total quality management companies of the 1980s.




At Corning, Houghton designated Forrest Behm as top quality executive to run the program. Highly regarded by his peers and a year away from retirement, Behm analyzed the task ahead and offered two recommendations:
Because implementing a total quality approach would likely take longer than Corning's executives had expected, Behm would postpone his retirement and plan on a three-year commitment to the quality initiative.
As CEO, Jamie Houghton would have to devote a great deal of his own time to the quality initiative. (In fact, a review of Houghton's calendar in the early 1980s would reveal that more than 25 percent of his long hours were devoted to quality. "It was one of the hardest things I ever did," he said.) (1)
During the early to mid-1980s, Corning made enormous strides in quality and company performance. The company achieved a milestone in 1995 when its telecommunications products division received the the Malcolm Baldrige National Quality Award.
To earn the Baldrige distinction, organizations must demonstrate not only excellence in quality processes, but also strong customer preference in the marketplace and superior process excellence in cost efficiency, yield, reliability, and other performance measures. Organizations must also demonstrate integration and alignment between and among different units and functions. They must, in other words, become role models for others.
From the late 1990s through the early part of the 21st century, Corning went through a boom period, exceeding market expectations while balancing opportunities and challenges. For instance, the tech bubble of the time contributed to an upward swing for several product lines, particularly fiber optics. However, that opportunity then turned into a tough challenge when the fiber optics market became more saturated. Additionally, Corning's quality advantage had become outdated, no longer providing the competitive edge of cost and speed necessary to continue prospering from innovations alone.
Over time, many organizations encounter these types of market forces and influences. The great companies overcome the obstacles, and the poor companies fall by the wayside. This case is an examination of the renewal of Corning in the decade since 2002. It is a story of quality, innovation, operating excellence, and renewal, but above all, it is a story of leadership.
Decline of Market Dominance
Market stagnation and saturation in worldwide fiber optics in the early 2000s created some difficulties for Corning in terms of competitiveness, sales opportunities, and cash flow. There were no huge innovation hits on the horizon. In general, this was a maturing company without a defining cash-producing opportunity ahead. In light of these market conditions, the Corning Board of Directors asked Houghton to return as CEO in 2002.
Houghton felt it necessary to re-examine the fundamentals of Corning: its values, strategy, culture, and leadership. (2) The primary strategy of Corning for more than a century and a half had been invention and innovation, and from its range of glass products, including light bulbs, cookware, insulation, television tubes, fiber optic cable, liquid crystal displays, and ceramic environmental air filters, the company had gained a wealth of diversified manufacturing experience. Houghton not only decided that this strategy was sound, but he re-emphasized it. In difficult financial times for the company, he invested 11 percent of revenues back into research and development. (3)
Corning's history was one of inventing products, but the company would eventually stop manufacturing those products as they lost market share to lower-cost competitor offerings. In a globally integrated world, this problem was likely to worsen over time.
In his rigorous review of Corning's weaknesses, Houghton asked, "Given all that we've invented, why are we not the top manufacturing company in the U.S.?" (4) In other words, how was Corning losing globally despite its many inventions?
Houghton asked Corning executives to analyze the company's expressed values and compare them to the current reality of practices, operations, and culture. At least one of the values – quality – was no longer a top priority. As evidence of its diminishing role, the quality office reported to a low level in the company hierarchy as the legendary quality advantage dissipated.
As Houghton undertook this analysis, he also searched for new leadership to fill a number of positions, including that of quality leader. Houghton specified that the quality leader would report frequently and personally to him, the chairman and chief executive officer who also was a member of the company's founding family. No clearer message about the primacy of quality renewal could be sent.
Forrest Behm, his former champion who had built the quality foundation leading to the Baldrige Award, had already retired. In finding a new leader for what would become known as performance excellence at Corning, the CEO turned to his senior team for advice. The name that kept surfacing was that of Don McCabe. Jim Steiner, senior vice president of specialty materials, had recently attended a conference in Minnesota regarding quality renewal and believed that McCabe had the knowledge, conviction, leadership reputation, and vision that the performance excellence job would demand.
After an interviewing process that included a tour of Corning operations and key customers in Europe and detailed discusses of how to move Corning forward, Houghton offered McCabe the job.
Several imperatives would be guidelines in this performance excellence initiative:
Concentrate on cost advantage.
Preserve and enhance the historic culture of innovation that had been the guiding light of everything the company did.
Ensure that the continuous improvement system itself was the best in its class. Corning would use common quality tools such as Six Sigma, lean, and kaizen, and customize them for a unique approach to quality improvement. This approach would have to be imbedded in Corning's vast global operations.
Questions for Discussion

Before proceeding to part II of "The Corning Journey to Performance Excellence: Innovation Spanning Three Centuries," consider the following discussion questions:

As a company leader and quality believer, how would you pursue enacting these three strategic initiatives at Corning? Try to formulate how you would proceed if you were in charge.
Why do you think that the quality initiative was not sustainable after numerous years of success, even after having won the coveted Baldrige Award? What has to be different in this new attempt at quality at Corning?
Given the strategic challenges Corning faced in 2002, what are the key factors you would consider in formulating a turnaround strategy?
As the corporate leader, how would you disseminate the learning available in the common quality tools such as Six Sigma, Lean, and Kaizen, and embed these principles in everyday operations?
How can leadership assure that the quality projects are designed to further strategic initiatives of the company? Is it possible to design initiatives that don't require employees to do peripheral non-productive activity, but focus on only the key strategies?
What are key motivators for employees to engage in collaboration? Can some quality initiatives actually be demotivating? What role does leadership play in engaging employees?