The Corning Journey to Performance Excellence: Innovation Spanning Three Centuries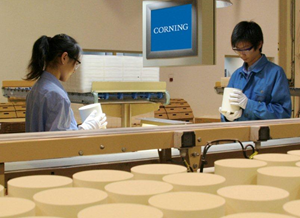 "Our employees and our methods are our strongest competitive advantage in delivering customer value."

- Corning Performance Excellence Model
Northwestern University, Buckman Associates, and ASQ present a case study detailing the performance excellence journey of Corning, Inc.
Founded in 1851, Corning is known for innovations in the development of glass products and glass- and ceramics-based applications. Its commitment to manufacturing what it invents contributes to its success in serving consumer and industrial markets for the past 160 years.
Case Study At a Glance
Read the written case study in two parts:
Part I: Situation analysis of the challenges that Corning, a 1995 Baldrige Award recipient, faced in its sustainable performance excellence journey.
Part II: Some of the implementation activities of the Corning performance excellence team, along with results they experienced.
Find More Case Studies
Search Examples of Quality Success in Manufacturing
The ASQ case study collection contains more than 1,700 examples of quality solutions to real-world problems. Find more case studies in the manufacturing industry to learn about how organizations around the world are using quality tools and approaches to improve processes, save money and drive revenue, and increase customer satisfaction.
Case Study Highlights
The voices of Corning's performance excellence team share how the organization developed a value creation system across all disciplines within the corporation.

View this video on the ASQ YouTube channel.
Video contents:
Don McNeeley of the Master of Engineering Management program, McCormick School of Engineering, Northwestern University, introduces the context of a legacy company such as Corning in pursuing great transformation and continued innovation by framing it against business survival rates and product life cycle theory (Heckscher-Ohlin and later R. Vernon).
James Buckman, Buckman Associates, questions Don McCabe, former senior vice president, manufacturing and performance excellence, Corning; Kristine Dale, director, performance excellence, Corning, and Roger Ackerman, Jr., performance excellence facilitator, Corning.
Corning leaders speak to students in the Master of Engineering Management program at Northwestern University:

Don McCabe provides an overview of the performance excellence system
Kristine Dale fleshes out the deployment aspects
Roger Ackerman, Jr., offers insight into using quality tools in a commercial application

The panelists conduct a question and answer session with students
In this feature article from the July 2013 issue of QP, learn how Corning used quality to maintain its legacy of innovation for 160 years. Based on interviews with Don McCabe, Kristine Dale, and Roger Ackerman, Jr., along with James Steiner, senior vice president and general manager, Specialty Materials, authors James and Mary Beth Buckman analyze the keys to Corning's long-lasting success.
Read an earlier case study article on Corning published in the January 2007 issue of QP. Learn how Jamie Houghton came out of retirement to execute a turnaround for Corning by focusing on quality, values, and Six Sigma's DMAIC process.
See recommended resources to help continue your exploration of topics related to quality management, organizational culture, transformation, and more, many available online from ASQ.
Especially for Educators
Exclusively online, find materials you can incorporate into classroom instruction or discussion groups.
Use the recommended learning objectives, dis10px;cussion questions, extended bibliography of resources, and presentation slides contributed by faculty of Northwestern University and the University of Minnesota to structure your own less10px;on plan.
Request permission to distribute materials to participants in your class or discussion group.
Key Takeaways
You will learn: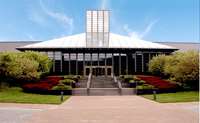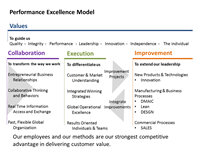 The history of Corning's quality journey, from focusing on becoming a leading company engaged in total quality in the 1980s, to receiving the Malcolm Baldrige National Quality Award in 1995, to the ongoing pursuit of performance excellence
About Corning's culture of quality and homegrown scalable approach that enables employees in all functions to participate in improvement activities
About Corning's performance excellence model that focuses on values, collaboration, execution, and improvement
Corning's results:
Longevity:

160 years of leadership in innovation and manufacturing

Savings:

$1.5 billion in savings over eight years
$300 million in savings in one year using four improvement methodologies

Participation and engagement:

3,000 trained Green Belts and Black Belts
Nearly 1,000 formal improvement projects completed in one year (2011)
100,000 individual improvements across the company every year (average of four per employee)
Behind the Story: Key Partners and Sponsors
Northwestern University Advanced Media Team: Mark Skala, Erin Delaney, Deirdre Lee, Nick Gertonson, Eric Choi
Buckman Associates: Tim Buckman, Mary Beth Buckman, Jim Buckman
Robert W. (Bob) Galvin and the Galvin Family Foundation
Corning, Inc.
Mayo Clinics & Foundation
The McCormick School of Engineering, Northwestern University, and the Master's of Engineering Management Program
Related Resources