Cutting Wasteful Steps, Improving Efficiency in Contract Procurement Process Saves Chicago Public Schools Millions
by Adam Wise
Operating one of the largest public school systems in an age when governmental agencies are at their most cash-strapped is no simple task. Providing high-quality education at a limited price to taxpayers is the expectation. But when staff salaries, benefit obligations, and student program costs continue to rise, how do school systems find ways to save money without harming the learning experience for kids?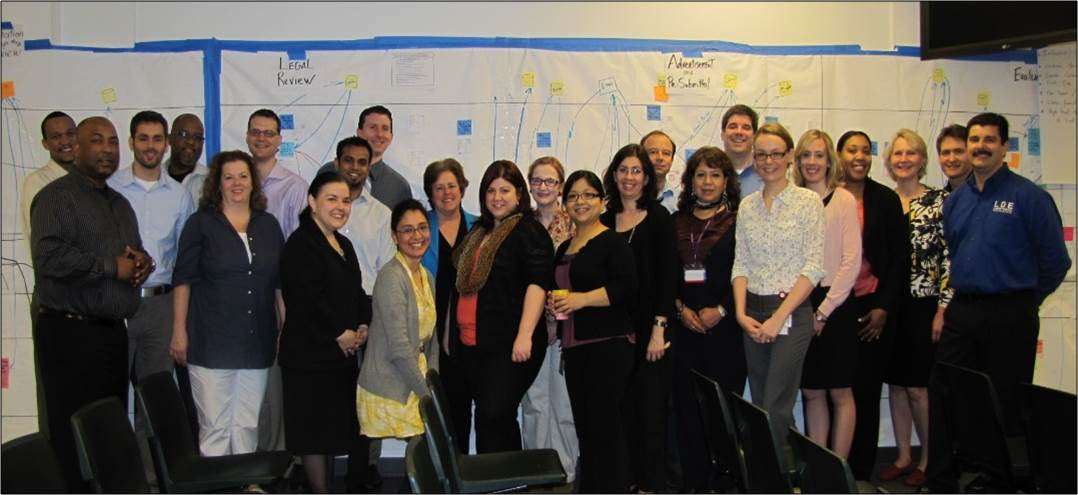 CPS Project Team Photo
Three years ago, Chicago Public Schools (CPS) officials saw an opportunity to reinvent the way their school district conducted business with vendors. Rather than working from a disadvantaged state where administrative staff members scrambled to sign agreements for services and supplies, administrators sought a complete overhaul of the system. The honest introspection would eventually save them millions.
Case Study At a Glance . . .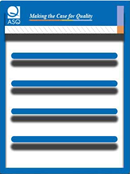 The third largest school district in the United States, the Chicago Public Schools (CPS), manages more than $2 billion in annual contract obligations for services and supplies.

Identifying a need to improve a procurement process that had long grown inefficient, CPS officials hired consultant George Chemers to support the implementation of the new vision for an efficient process.

Through a number of workshops, Chemers helped staff identify opportunities to streamline the contract procurement process while also improving budget forecasting. The lean review cut the process in half while saving the school district millions of dollars.
Download the entire case study (PDF) or continue reading below.
Find More Case Studies
Search Examples of Quality Success in Education
The ASQ case study collection contains more than 1,700 examples of quality solutions to real-world problems. Find other case studies in education to learn how school administrators and teachers are using quality tools to improve student learning and become more efficient in operating their school districts.
Chicago Public Schools Case Study
About Chicago Public Schools
Chicago Public Schools is the third largest school district in the United States, serving nearly 400,000 students in 664 schools. Founded in 1837, the school district has been controlled by the City of Chicago Mayor's Office since 1988. The vision of CPS is that every student in every neighborhood will be engaged in a rigorous, well-rounded instructional program and will graduate prepared for success in college, career, and life.
Visualizing Gaining Control of the District's Spending Approval Process
To say the CPS contract procurement process was filled with bottlenecks prior to 2012 would be an understatement. There were 202 total steps in the procurement process. There were 12 sub-phases within the process, many filled with a dozen or more steps to complete, including an early needs analysis, solicitation for bids, advertisement, evaluation of submissions, board report and approval, and legal contracting.
The step that had become particularly cumbersome for CPS procurement staff was readying its monthly submission to the Chicago Board of Education. Administrators meet monthly with the board—a seven-member panel appointed by the mayor that governs the school district. Prior to this improvement project, the procurement staff would submit its report of requested expenditures to the board seeking approval for spending in the ensuing weeks. But to just get the report approved internally and ready for the board, the document would shuffle through numerous cubicles.
"The board report would need to be validated, but first, it'd need 17 signatures on it from district staff," said Sebastien de Longeaux, chief procurement officer at CPS. "This took forever, and no one ever knew where the document was; it was just very time consuming and full of mistakes despite the 17 signatures."
As contract obligations possess a critical component of the school district's overall budget (about 17 percent of the budget, as seen in Figure 1), the time-consuming signature retrieval procedure had become the hallmark of a procurement process that was long overdue for a major overhaul.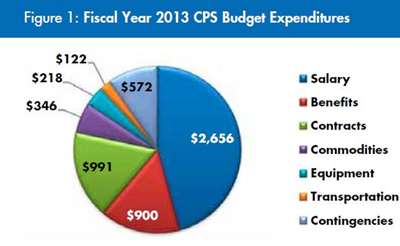 Longeaux was hired by CPS in 2012 with the mission to build a new, high-performing procurement organization. Changing the procurement focus from pure compliance to being a business partner was a priority. To get there, CPS needed to fix what had become a tireless monthly scramble to achieve board approval on contract request. Not only was the current state filled with wasteful steps, it lacked any foresight, Longeaux said. Rather than planning for known expenditures months in advance, CPS staff sought board approvals only weeks before the need was there. Longeaux said for years CPS staff had merely been seeking to comply with the rules rather than seeking any value to the process.
Seeking support to help in the implementation of the new process, CPS hired George Chemers, a Chicago-based quality consultant who also happened to have a very strong tie to the school district. Chemers' mother, Veronica Chemers, taught for 28 years at Chicago's Von Humboldt Elementary School. "I was emotionally invested in this project," he said.
Identifying Needs Further in Advance
In August 2012, Chemers began his discovery process where he acclimated himself to the current state, prepared a strategic plan in October, and began implementation by November. At that time, Chemers brought more than 30 administrative staff together for pulse workshops to begin root cause analysis.
"Traditionally in corporate [environments], we'll do a kaizen event with everyone in the same room for four-and-a-half days," he said. "That's not possible with this client." Instead, Chemers would need to accomplish his work with staff in chunks of time—2.5 hours in meeting rooms to investigate, identify opportunities for process improvement, and draft charts.
The work included creating a fishbone diagram to illustrate the amount of rework completed as part of the scope of goods and services (SGS) for the supplier solicitation document, which can be seen in Figure 2. Brainstorming sessions with a variety of stakeholders, including CPS procurement and legal staff, were conducted to understand the root causes.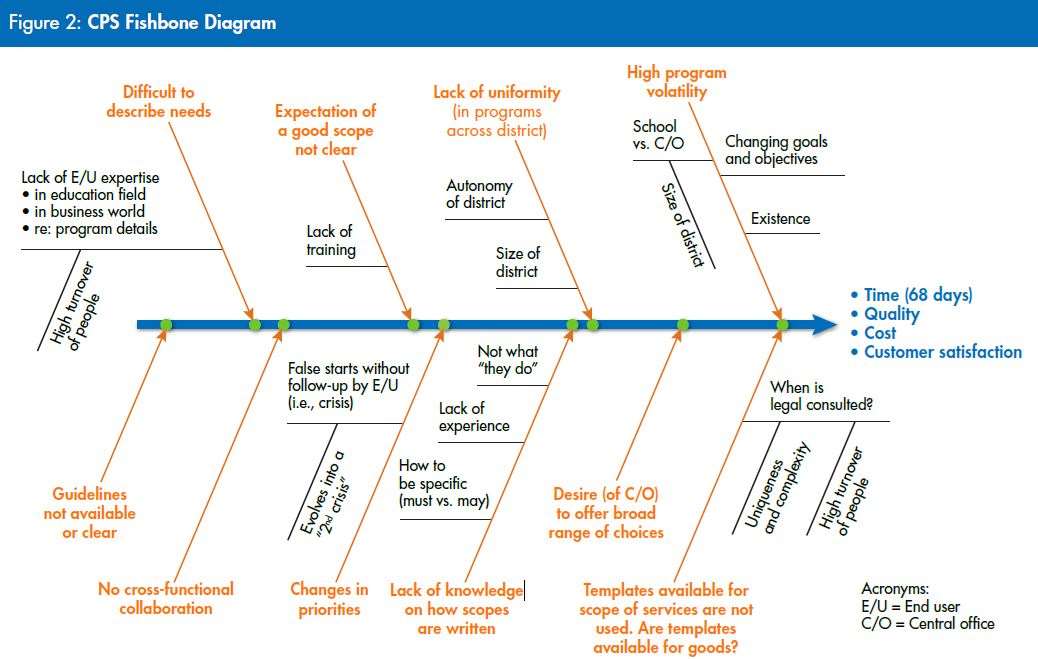 The input received from these sessions was included in the fishbone diagram before transferred to a spreadsheet for consolidation and analysis. The causes were synthesized under categories to highlight the general details of what the issues involved.
Value stream mapping uncovered various problems in the process, including:
Many rework loops

Many approvals within each functional group

Many redundant tasks done within each functional group

Many redundant tasks done across functional groups

Lack of expectations/communication between functional groups

Conflicting timelines between functional groups
Continue Reading ...
To continue reading this case study, download the complete PDF article.
For More Information
About the Author
Adam Wise is an ASQ staff writer.