Lean Project Helps Colorado DOT Provide Disaster Response Following Historical Flood
by Adam Wise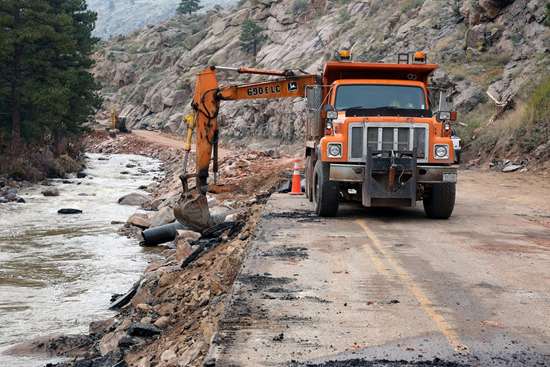 Construction crews begin cleanup on Hwy US 36 in Colorado following the September 2013 floods.
When flood waters ravaged portions of Colorado in September 2013 – killing crops, inundating homes, and buckling many miles of roadways – countless federal, state, and municipal government workers sprang into action helping citizens. The disaster damaged 200 lane miles of the state's highway system and damaged 120 bridges. While the Colorado Department of Transportation (CDOT) expected to have its highway system repaired and recovered by winter, the recovery could have taken much longer had it not been for the performance of one lean improvement project team.
Case Study At a Glance . . .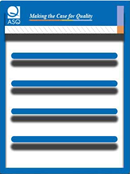 The Colorado Department of Transportation oversize and overweight truck permit writing team initiated a lean improvement project in May 2012 to quicken response times and remove unnecessary steps for truck drivers.

By May 2013, the permit team not only streamlined processes, but also reduced its major error rate from 6 percent to 2.4 percent.

The lean project quickly paid off by improving the department's disaster response capabilities following torrential flooding in major portions of the state in September 2013.
Download the entire case study (PDF) or continue reading below for highlights of the improvement project.
Find More Case Studies
Search Examples of Quality Success in Government
The ASQ case study collection contains more than 1,700 examples of quality solutions to real-world problems. Find other case studies in government to learn about how organizations around the world are using quality tools and approaches to improve processes, save money and drive revenue, and increase customer satisfaction.
Colorado DOT Case Study Highlights
About the Colorado Department of Transportation

The Colorado Department of Transportation is the state agency responsible for a 9,146 mile highway system that includes 3,447 bridges. Each year, this system handles more than 27.4 billion vehicle miles of traffic. Although the Interstate system accounts for only about 10 percent (914 miles) of the total mileage on the state system, 40 percent of all travel within Colorado takes place on the Interstate highways.
Lean project to reduce OS/OW permit error rate
In March 2012, 18 months before Coloradoans experienced the flood, CDOT launched a lean project to identify improvement opportunities within its oversize and overweight (OS/OW) permit division. The OS/OW permit process involves staff who issue permits to drivers moving the extra-large vehicles as a means to regulate the risk and damage associated with the abnormal load sizes.
On a yearly basis, CDOT will typically issue more than 50,000 OS/OW permits in an office that usually consists of about four full-time permit writers. Many permit requests are fairly simple for staff to complete, said CDOT Director of Process Improvement Gary Vansuch, as most are approved within one hour of being submitted. Some permit requests can take a couple of days to fulfill because the request involves a particularly large and/or heavy load. These extreme cases require additional analysis to determine the safest route for the trucker with the least amount of disruption to traffic. See below an example of an OS/OW permitted truck on I-70 in Colorado: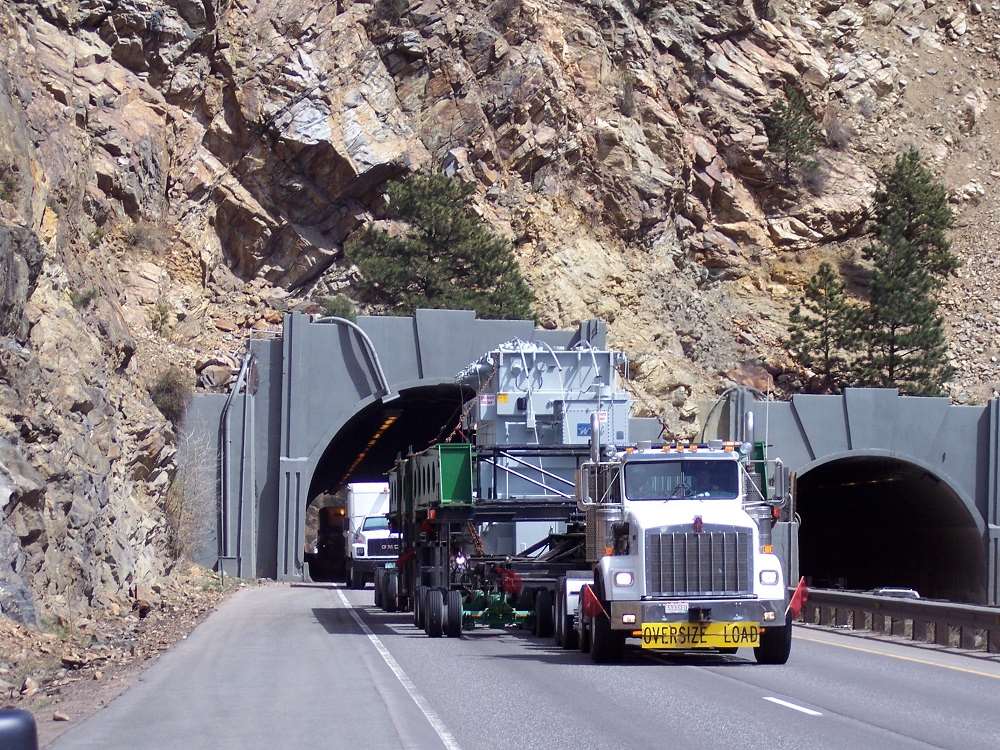 Lean project to reduce OS/OW permit error rate
During a 2012 audit, Vansuch said the department learned the permit office had a major error rate of 6 percent. The difference between a minor and a major error in the permit office is described below, while Table 2 provides many of the reasons why major errors were occurring in the permit office.
Minor error: An error that could summon a ticket from law enforcement for a trucker or confuse the intended permit recipient
Major error: An error that could cause structural damage to the Colorado transportation infrastructure or cause an accident that might result in bodily harm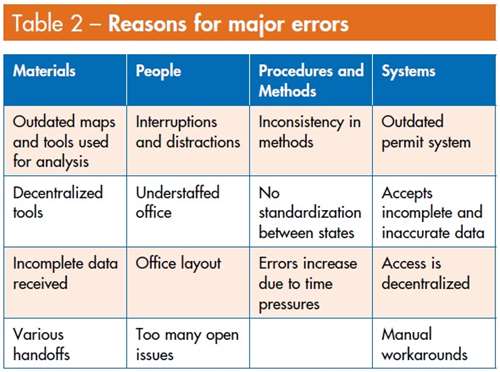 A process improvement team was soon created, and during the week of May 7, 2012, team members participated in a rapid improvement event improvement objectives were identified, including:
Reduce the error rate in the OS/OW permit office by 50 percent

Reduce the cycle times for permit processing

Improve communication with other local agencies, such as law enforcement

Provide permit writers with better tools for increase accuracy
The improvement team charted the permit process and the many steps that could occur when processing permits.
"As it turned out, a lot of that engineering work had been automated; and for many permits, it was work that included looking into a database and finding out some information," Vansuch said. "We cross-trained the permitting staff to take some of that engineering time, which also allows our engineering staff more time to design new bridges."
The team was able to identify needless handoffs delaying the review process of many permits. A common handoff occurred when a permit writer sent an application to the engineering staff to make the determination of whether that particular truck posed any threats to bridges along the proposed route. By trimming wasteful work and providing new training opportunities, the department reduced the total number of steps in the approval process from 17 to 12, with plans to reduce it even further in the future. Table 3, and the subsequent image, highlights the average reduction in cycle time, while the improvement team has also reduced the major error rate from 6 percent in April 2012 to 2.4 percent in May 2013.

Just in time for tragedy
While team members knew fairly early on that improvements had been made to the permit process, the department faced a major test 18 months after the improvement project's launch. Torrential rains induced historical flooding in Colorado during the week of September 9, 2013, a disaster that sent numerous governmental and emergency workers into a race to respond and help the afflicted.
But one issue loomed: How would rescue and maintenance crews find safe passageways to reach some of the secluded portions of the state that were cut off due to the flooding? Permit Office Supervisor David Johnson said within the first two days of the rains, the permit office was contacted regarding how to get trucks into the worst areas. The following image shows flooding and damage to State Highway 72:
"The really smaller towns affected by the flooding are all up in the mountains," Vansuch said. "About a third of Colorado is flat, but none of these towns are flat, so people depend on very few roads to get up there. Suddenly, most of the routes that people were used to taking are gone. So many people were counting on our folks in the permits office to safely get our emergency and repair equipment up there as fast as we could."
Johnson said that one of the byproducts of the lean process was that the permit office established a 24/7 emergency on-call rotation program. Johnson was the designated employee on call when the floods hit. "The National Guard called me about what routing they could take to get excavators up through the mountains to Estes Park," he said. "There's only one route that could get up there, through highway tunnels low enough so that operators had to unload their equipment to get to their location. The on-call program was another positive we got from this process and it paid dividends almost immediately."
For more information
All photographs and data were provided by the Colorado Department of Transportation.