Home

/

From The Conference Board: A Leadership Prescription for the Future of Quality
From The Conference Board: A Leadership Prescription for the Future of Quality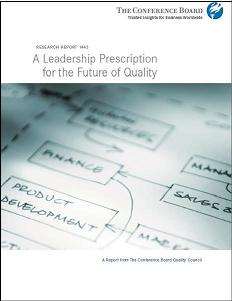 A new report by The Conference Board Quality Council sheds light on the continuing evolution of quality and the changing roles of quality professionals. A Leadership Prescription for the Future of Quality addresses how quality professionals can be catalysts for change, play key roles in understanding how an organization's processes are related, and enhance the connection between business planning and the bottom line.
The report is available at
the Conference Board Web site
.
Instant-Access Excerpts for ASQ Members

By special arrangement with The Conference Board, ASQ members may download two excerpts from the report:
The New Quality Imperative: Table 1 offers a side-by-side look at how the goals and values of quality have changed from the 1980s to 2009. (PDF, 2MB)
Practices Used to Address Challenges: Appendix Table 1 includes data from a survey of Quality Council members. The table shows how often the respondents mentioned using specific quality practices to address challenges such as profitable growth, execution, customer loyalty, and speed to market. (PDF, 2MB)