 Quality Progress

How the Baldrige criteria can help build a workforce development strategy that works for institutions and communities.

Lessons from a health system that leveraged ISO 9001:2015 to transform its accreditation program and drive continuous improvement.

Lean methods guided one manufacturer away from a manual, outdated document-signing process.

ASQ Celebrates Milestone Year
This year marks ASQ's 75th anniversary. Take a trip down memory lane throughout the year as we share some classic QP content.
Reaction Gauge
According to a recent survey, 41% of U.S. workers feel exhausted, overwhelmed and burned out by chronic workplace stress. For about one-third of employees, their work-related stress is so extreme it affects their personal lives, too. While a supportive organizational culture can help employees maintain a healthy work-life balance, many organization ignore the issue. How do you manage workplace stress? What does your organization do to foster a healthy work-life balance?
Spotlight on Quality's Emerging Young Professionals
QP wants to showcase the best and brightest young talented quality leaders and trailblazers of tomorrow. If there's someone who is a young, passionate and an up-and-coming quality leader, let us know. Nominate your boss, an employee, a colleague—or yourself—by
clicking here
before June 30. Subscribe for Newsletters
Don't have an ASQ account? A free ASQ account will be created by subscribing to an enewsletter. Stay in the Loop Ask an Expert
Have you run into a problem you can't seem to solve? Look no further. QP's experts provide answers and insights to your toughest questions. Submit your Question Today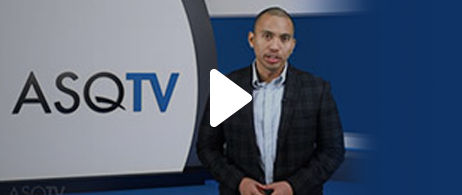 Watch this Episode of ASQ TV
Hear from Kemi Sorinmade, performance improvement and leadership development coach and trainer for the Growth Studio, discuss how to close the leadership gap and formulate strategies to help organizations increase their effectiveness by getting buy-in from their employees.
Watch This Episode