ASQ TR1-2012: Best Quality Practices for Biomedical Research in Drug Development (e-standard)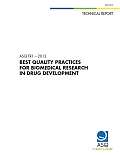 ASQ TR1-2012: Best Quality Practices for Biomedical Research in Drug Development (e-standard)
ASQ
Digital Document,
26 pages, Published 2012
Dimensions: 81/2 x 11
Item Number: T919E
Member Price: $
52.00
List Price: $

65.00
Looking to purchase to post on your company's Intranet?
Keywords
Biomedical Research
Drug Development
technical report
Description
This Technical Report identifies important quality management system elements for non-regulated biomedical research in drug development in order to ensure credibility of biomedical research results. This includes both large and small molecule discovery and non-clinical development that is not covered by GxP.
The target audience for this report is the scientific staff at institutions and companies involved in drug development. Compliance with applicable regulatory and safety requirements is not covered by this report.
This Technical Report was created by a working group from the Food, Drug and Cosmetic Division of the American Society for Quality.