Lean Six Sigma for Hospitals, Second Edition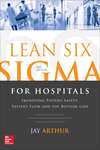 Lean Six Sigma for Hospitals, Second Edition
Improving Patient Safety, Patient Flow and the Bottom Line
Jay Arthur
Softcover,
400 pages, Published 2016
Dimensions: 6 x 9
ISBN: 978-1-25964-108-4
Item Number: P1623
Member Price: $
50.00
List Price: $

50.00
Looking to purchase for a course or large group?
Keywords
Lean
Six Sigma
Healthcare
Hospital operations
Quality of care
Description
A fully updated, practical guide to Lean Six Sigma applications in the healthcare industry
This thoroughly revised resource offers proven strategies for rapidly improving hospital operations and quality of care while dramatically reducing costs. The book covers clinical and operational processes and shows how to save money, save time and save lives using Lean Six Sigma. All tools and methods apply to both inpatient and outpatient services as well as to doctors' offices and healthcare provider organizations.
Lean Six Sigma for Hospitals: Simple Steps to Fast, Affordable, and Flawless Healthcare, Second Edition, teaches, step-by-step, how to transform your hospital in five days—from the front door or emergency room all the way through discharge. Key aspects of patient flow and experience are analyzed in full detail. The trail of billing and collections is examined to uncover and eliminate cash flow leaks. Throughout, real-world case studies from major hospitals illustrate successful implementations of Lean Six Sigma.
Lays out tested methods to optimize hospital operations and contain costs
Shows how to reduce rejected claims and minimize preventable patient harm
Written by a recognized Lean Six Sigma expert and author