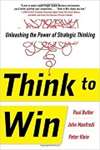 Think to Win
Unleashing the Power of Strategic Thinking
Paul Butler, John Manfredi, Peter Klein
Hardcover,
304 pages, Published 2016
Dimensions: 7 x 10
ISBN: 978-0-07184-095-8
Item Number: P1597
Member Price: $
30.00
List Price: $

30.00
Looking to purchase for a course or large group?
Keywords
Strategic thinking
Business
Success
Description
In today's ultra-competitive business world, the difference between success and failure lies in the ability to get every employee to think and behave like a strategist.
Think to Win helps business leaders expand strategic thinking out of the purview of "the elite few" and into the company culture as whole. It offers a simple, proven approach to analyzing and solving old or new challenges and provides a common language anyone at any level in the organization can understand.