Quality Standards for Highly Effective Government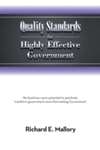 Quality Standards for Highly Effective Government
Richard E. Mallory
Softcover,
100 pages, Published 2016
Dimensions: 6 x 9
ISBN: 978-1-49072-897-1
Item Number: P1591
Member Price: $
25.00
List Price: $

25.00
Looking to purchase for a course or large group?
Keywords
Quality Standards
Government
Description
This book presents a simple framework and guidelines for implementing visible and uniform auditable standards of quality in government that can fundamentally and permanently reshape its efficiency, effectiveness, and value. It opens the possibility of a day in the not-too-distant future when a quality audit can provide a uniform and valid report card on every government agency that is a companion to an annual audit of the financial books. Its easy-to-use quality standards are objective, measurable, and transformational. The standards provide the missing link for the implementation of quality in government both because they align with fundamental good management technique and support any other quality disciplines already in place in any given jurisdiction. The standards are designed to mirror the three fundamental levels of leadership in government: (1) Work unit supervisors and managers at the "front line" of government service, (2) chief executives, department directors and their deputies as "executive management" of government agencies, and (3) elected leadership at the top, who provide "public management" and must define the priorities, outcomes, programs, and budgets. No book has had a bigger potential to positively transform government since Reinventing Government. It is a "must read" for elected leaders, public sector managers, and citizens who wonder why government is so often unable to achieve excellence.