Six Sigma for Managers, Second Edition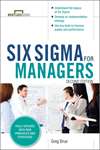 Six Sigma for Managers, Second Edition
Greg Brue
Softcover,
247 pages, Published 2015
Dimensions: 6 x 9
ISBN: 978-0-07183-863-4
Item Number: P1590
Member Price: $
19.00
List Price: $

19.00
Looking to purchase for a course or large group?
Keywords
lean
six
sigma
manager
managers
leader
leaders
leadership
strategy
strategies
develop
implement
implementation
quality
performance
basics
intro
optimize
optimizing
initiate
initiative
guide
execute
Description
Written specifically for managers with little or no experience on the subject, Six Sigma for Managers, Second Edition, provides step-by-step guidance and examples for implementing a Six Sigma initiative.
Written specifically for today's busy manager, Briefcase Books feature eye-catching icons, checklists, and sidebars to guide managers step by step through everyday workplace situations.
Updated with the latest in implementation strategies and tactics, tips from insiders in the field, and new stories and insights from the Six Sigma experiences of others
Clear definitions of key management terms and concepts
Practical advice for minimizing the possibility of error
Examples of successful management
Specific planning procedures, tactics, and hands-on techniques