The Risk Management Memory Jogger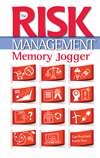 The Risk Management Memory Jogger
Carl Pritchard, Karen Tate
Spiralbound,
172 pages, Published 2015
Dimensions: Pocket Guide
ISBN: 978-1-57681-159-7
Item Number: P1580
Member Price: $
17.95
List Price: $

17.95
Looking to purchase for a course or large group?
Keywords
risk
management
memory
jogger
control
failure
strategy
Description
How do you deal with risk? Risk is everywhere... in your work, at home, and an ever-present factor in new ventures, financial investments, relationships, work projects, and all types of events... how do you decide whether the effort is worth the risk, or figure out how to minimize the risks?
This guide will help you deal with the potentially rocky road of opportunity and risk. It begins with a road map and a five-step plan for how to proceed, including the "rules of the road" such as key terms to know, pitfalls to avoid, and tips that will keep you moving toward your goals.