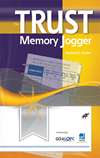 The Trust Memory Jogger
Stephen K. Hacker
Spiralbound,
126 pages, Published 2015
Dimensions: Pocket Guide
ISBN: 978-1-57681-172-6
Item Number: P1579
Member Price: $
15.95
List Price: $

15.95
Looking to purchase for a course or large group?
Keywords
trust
memory
jogger
team
human
resources
hr
cultivate
Description
Learn how to cultivate trust and relate to people in your organization, and your suppliers, so that all of you can be successful and profitable and feel good about achieving your goals.
This book includes numerous worksheets and assessments, as well as research-based advice, and a case study to bring it all together. First you will look at your own trustworthiness, which can be very revealing about why your relationships are working or not working well. This book will help you not only assess your own abilities, but also assess how you can best work on trust with coworkers, supervisors and managers, and other people you must work with. This book can help you move to a higher level in your relationships and give you the power to feel confident about each step you take in bettering your own trustworthiness and in building trust with others.