Handbook for Supply Chain Risk Management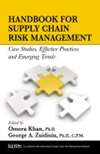 Handbook for Supply Chain Risk Management
Case Studies, Effective Practices and Emerging Trends
Omera Khan Ph.D, George A. Zsidisin Ph.D C.P.M
Hardcover,
360 pages, Published 2014
Dimensions: 6 x 9
ISBN: 978-1-60427-038-9
Item Number: P1562
Member Price: $
79.95
List Price: $

79.95
Looking to purchase for a course or large group?
Keywords
Risk management
project management
Description
Recent business trends and practices, coupled with unpredictable external events have made many firms much more vulnerable to supply chain risk and disruptions than in the past.
The Handbook for Supply Chain Risk Management
offers the first comprehensive collection of diverse practices executives and practitioners in most any industry can adopt to proactively manage supply chain risks and improve their overall business performance.
Key Features:
Delivers valuable insights from 30 international contributing authors
Provides comprehensive coverage of current and future supply chain risks such as globalization, outsourcing, Lean initiatives, information security, natural disasters, political upheaval and economic recession
Includes a wide variety of cases from various industries demonstrating effective approaches useful for benchmarking, reducing the chance and financial impact of risk, and for creating a more robust and resilient firm in the face of supply chain risk --Supplies practitioners with a set of best practices, processes, tools, and techniques supported by illustrative examples