Lean Healthcare Deployment and Sustainability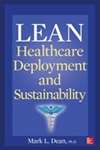 Lean Healthcare Deployment and Sustainability
Mark L. Dean
Dimensions: 6 x 9
ISBN: 978-0-07181-770-7
Item Number: P1559
Member Price: $
30.00
List Price: $

30.00
Looking to purchase for a course or large group?
Keywords
Lean
healthcare
social responsibility
Description
Lean Healthcare Deployment and Sustainability
reveals how to successfully implement Lean methodologies in a hospital, physician practice, long-term care facility, or other healthcare setting. This strategic guide provides an organizational infrastructure and systematic approach for transforming a healthcare system into a Lean enterprise and lays out a detailed roadmap that describes the processes and tools required for implementation.
The book introduces the concept of Healing Pathways, which are defined as value streams through which patients flow. This innovation enhances Lean implementation in healthcare by providing explicit recognition and improvement of the patient experience. Case studies and examples demonstrate practical applications of the concepts presented. Proven methods for sustaining Lean gains are also included. The prescriptive information in this comprehensive resource will enable you and your team to work together to achieve Lean enterprise goals and improve patient care, patient satisfaction, productivity, operational performance, and physician and team member satisfaction.
Learn how to:
Make the business case for Lean in healthcare
Engage the senior leadership team
Prepare for the Lean transformation process
Plan and conduct a Lean transformation summit
Ensure enterprise transformation results
Standardize best practices
Ensure Healing Pathway transformation results
Implement Just Do It actions, Rapid Improvement Events, and Projects
Use Lean to execute strategic and emerging operational objectives