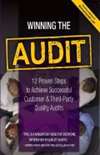 Winning the Audit
12 Proven Steps to Achieve Successful Customer & Third-Party Quality Audits
Monika N. Ardianto
PDF,
185 pages, Published 2013
Dimensions: 6 x 9
ISBN: 978-0-99176-011-4
Item Number: P1528E
Member Price: $
20.00
List Price: $

23.00
Looking to purchase for a course or large group?
Keywords
customer audits
third-party audits
quality audits
Description
More and more companies are turning to specific management system standards to help them meet such challenges efficiently and effectively in today's tough and competitive markets. In today's business environment, customers demand assurance that their suppliers' activities are performed correctly and consistently and comply with numerous quality, safety, and regulatory requirements.
ISO 9001 is a renowned international quality management standard and rapidly becoming the most popular quality standard in the world. This standard gives you the principles you need to have a solid foundation that can become part of your company culture. Nowadays, most companies prefer to do business only with those companies that are ISO certified. Therefore, ISO certification can help a company open up new markets it had no access to before certification.
Within this book, you have access to the unique sequence and method that has been honed, tested, and most important, proven to help many companies get qualified and certified by their customers and third-party auditors.