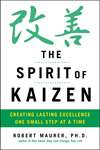 The Spirit of Kaizen
Creating Lasting Excellence One Small Step at a Time
Bob Maurer, Robert Maurer, Leigh Ann Hirschman
Dimensions: 6 x 9
ISBN: 978-0-07179-617-0
Item Number: P1483
Member Price: $
23.00
List Price: $

23.00
Looking to purchase for a course or large group?
Description
Filled with practical tips and ready-to-use tools for managers, innovators, and entrepreneurs, The Spirit of Kaizen is the essential handbook for a changing world. You'll learn how to think outside the suggestion box, remove mental blindfolds, manage stress with one-minute exercises, and handle rising health-care costs. You'll discover the "small step" secrets for dealing with all kinds of people, from tough bosses and listless workers to stubborn clients and fussy customers.
These simple but powerful techniques can be applied to almost any workplace situation, especially when you're trying to navigate the stormy waters of radical change, high-pressure deadlines, and cutthroat competition. These are the same methods of small, continual improvement that have been tested by the largest companies, such as Boeing, Toyota, and the U.S. Navy—methods that will work for you, too.
No matter how big the obstacle or how big the dream, The Spirit of Kaizen has a small-step solution to help you succeed.