The Lean Enterprise Memory Jogger for Service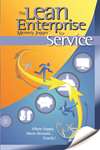 The Lean Enterprise Memory Jogger for Service
Richard L. Macinnes
Spiralbound,
Published 2009
ISBN: 978-1-57681-110-8
Item Number: P1385
Member Price: $
19.95
List Price: $

19.95
Looking to purchase for a course or large group?
Description
This brand new version of our original Lean Enterprise Memory Jogger applies lean concepts to both services and transactional organizations.
Answer this… would your customers "without question" recommend your service to friends or associates? The Lean Enterprise Memory Jogger for Service holds the key to helping you achieve superior service levels, efficiently and effectively; while retaining desirable customers and attracting new ones. Industry has learned that traditional lean manufacturing approaches when applied to the service environment can have disastrous results. Service is not manufacturing! But service delivery does require associated resources of people, technology, methods, facilities, equipment, and so on, to be designed to meet the seemingly unpredictable demands of customers.
The Lean Enterprise Memory Jogger for Service is based on a proven approach to address the unique nature of service demand and supply. The lean methods contained herein are adapted to the service environment and have been applied to private and public sector organizations around the globe with measurable success.
Pick-up your copy today! and begin tackling the tough problem of matching supply to demand exactly in your service environment—your customers will thank you.