Insights to Performance Excellence 2021-2022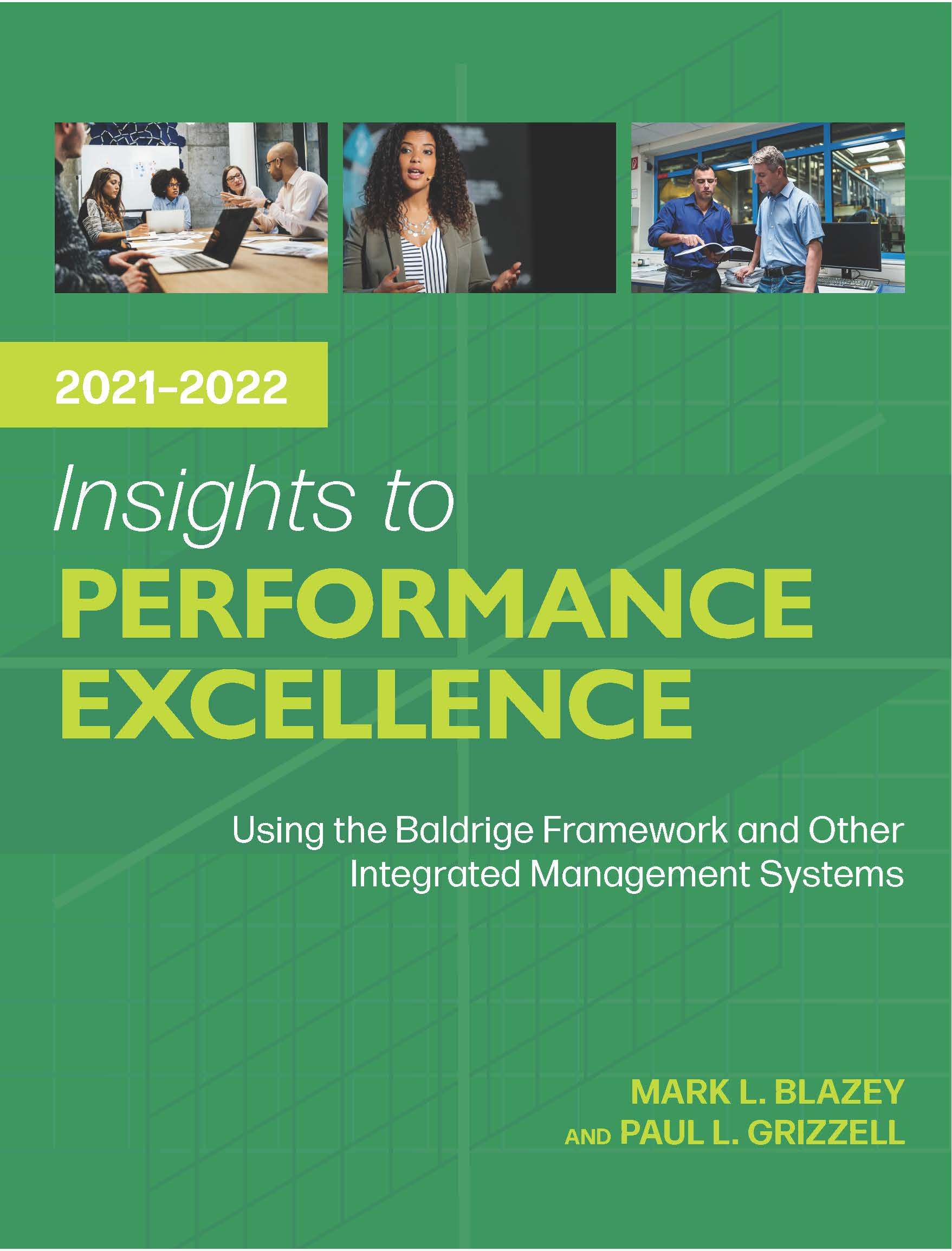 Insights to Performance Excellence 2021-2022
Using the Baldrige Framework and Other Integrated Management Systems
Mark L. Blazey And Paul L. Grizzell
Softcover,
400 pages, Published 2021
Dimensions: 8.5 x 11 inches
ISBN: 978-1-63694-002-1
Item Number: H1587
Member Price: $
70
List Price: $

100
Looking to purchase for a course or large group?
Keywords
Baldrige
organizational assessment
management system
Description
For decades, this book has served as a guide to organizations that document their continuous improvement efforts using Baldrige Award-type management systems. Readers will learn what each area of the system means for organizations and how the synergy between process-oriented parts—leadership; strategy; customers; measurement, analysis, and knowledge management; workforce; and operations—can lead to excellent performance results. This book provides a valuable, step-by-step approach to help identify and put in place properly focused continuous improvement systems.

Seven types of information are provided in this book for each of the Items in Categories 1 through 7 of the 2021–2022 Baldrige Framework and Performance Excellence Criteria:
1. The actual language of each Item, including Notes
2. A plain-English explanation of the requirements and rationale for each Item
3. A table showing the similar requirements of the Criteria
4. A summary of the requirements of each Item in flowchart form
5. The key linkages between each Item and other Items
6. An explanation of some potential adverse consequences
7. Examples of effective practices
Features of this edition include:
• A stakeholder matrix table of contents that identifies relevant material within the book for key stakeholder groups: senior leaders, examiners, performance excellence initiative leaders, application writers, and program administrators
• Tables for each Criteria Item showing the similar expectations of the Criteria award (and award program administrators) presented only once at the scoring level where the expectation first appears to help examiners determine at what level an expectation belongs
• Online resources, including scoring calibration guides for education, healthcare, and business/nonprofit/government organizations, a guide to self-assessment of organizations and management systems, and a guide to the alignment of Baldrige, Six Sigma, Lean, and Balanced Scorecard
• A new crosswalk between Baldrige and ISO standards and a set of global performance excellence best practices
• Information on other award programs throughout the world such as the European Foundation for Quality Management (EFQM), which has undergone significant changes in the 2020 model, and the China Association for Quality
Mark L. Blazey
has retired from more than 26 years as president of Quantum Performance Group, a management consulting and training firm specializing in organization assessment and high-performance systems development. Paul L. Grizzell is president of Core Values Partners, a performance excellence consulting firm that helps organizations focus, align, and accelerate their improvement efforts through the use of the Baldrige Framework for Performance Excellence, the EFQM Model, the China Quality Award, and other integrated management systems.