Beyond Compliance Design of a Quality System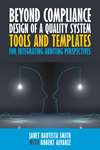 Beyond Compliance Design of a Quality System
Tools and Templates for Integrating Auditing Perspectives
Janet Bautista Smith With Robert Alvarez
Softcover,
120 pages, Published 2020
Dimensions: 6 x 9
ISBN: 978-1-951058-23-4
Item Number: H1573
Member Price: $
28.00
List Price: $

40.00
Looking to purchase for a course or large group?
Keywords
auditing
auditor
auditee
auditing tools
auditing templates
quality management system
QMS
quality system design
external auditing
third-party auditing
Description
Next Level Results for Your QMS
You don't just want a compliant quality management system, you want a robust one—a QMS that's easy to implement and maintain. Beyond Compliance Design merges two sets of experiences—that of a quality system designer/auditee and that of an external auditor—to help you make that possible. Move beyond a focus on checking all the right boxes to the opportunities for continuous improvement, waste reduction, employee engagement, and customer satisfaction and delight.
Author Janet Bautista Smith, with the contributions of external auditor, Robert Alvarez, guides you in this process with her models, case studies, lessons learned, and an array of simple tools and templates you can customize for your organization and begin using immediately, including:

Implementing layered metrics to align with the auditor's perspective
Employing DMAIC analysis to process customer complaints
Discovering hidden factories through a Process Grid Walk
Addressing common pitfalls of documentation systems with lean solutions
Achieving operational compliance and excellence within processes
Determining QMS, customer, and auditor satisfaction
Fostering synergy among the QMS, customer, and auditor perspectives
Engaging management review for critical support

Janet Bautista Smith has 38 years of quality management experience in various manufacturing environments, including the medical device, automotive, and military and logistics industries. She has previously written Auditing Beyond Compliance and The Art of Integrating Strategic Planning, Process Metrics, Risk Mitigation, and Auditing for ASQ's Quality Press.
Robert Alvarez brings more than 40 years of experience to the maintenance and implementation of management systems.


An effective QMS is always in a state of dynamic improvement. Effort in building a strong QMS is to continually meet and exceed both the internal business requirements as well as external stakeholders. This book provides insights into real life experiences of both the QMS designer and an objective Auditor and provides a simplified flow of work processes, which are scalable to any industry for bringing about continuous improvement and strengthening the existing QMS.
– Madhusudan Moosapeta, Director, Quality and Compliance, Apotex
The Process Grid Walk evaluation (depicted in this book) is unique and provides a precise identification of a process or procedure that may provide an opportunity for improvement.
– Ricardo Villareal, Supply Chain Security Specialist, CTPAT Field Officer, U.S. Customs and Border Protection