Crafting Service Processes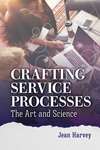 Crafting Service Processes
The Art and Science
Jean Harvey
Hardcover,
203 pages, Published 2019
Dimensions: 7 x 10
ISBN: 978-0-87389-984-0
Item Number: H1560
Member Price: $
49.00
List Price: $

70.00
Looking to purchase for a course or large group?
Keywords
service processes
service operations
family processes
professional services
customer expectations
Description
As the title makes clear, this book is about the design and delivery of service experiences. This includes the design of installations, facilities, technologies and scripts used in the staging of such experiences. It introduces the reader to many fundamental notions in service operations, from positioning to execution, with much attention paid to human experiences such as those of customers and service workers; be they performing simple repetitive tasks or complex mental tasks. The subject is treated in an user-friendly manner with a storytelling context, focusing initially on every day services (coffee shops, fast food, supermarkets) and then moving on to complex services (lawyers, physicians, engineers, accountants).
Contrary to popular hype, not all service experiences are meant to be memorable. If all you need is a cup of coffee and this is done quickly, effortlessly, and painlessly, that's good. If there's a little plus along the way, that's better: you'll make a mental note that this is a good place to stop next time you are in the area.
In an age of exponential technological change, service delivery processes are changing quickly and service industries are being creatively destroyed. You want to be the disruptor, willing to disrupt a large part of your actual income streams. The ability to maintain differentiation rests largely on an in-depth understanding of the service experience and operational excellence. The future belongs to the fastest learner. Intuition is only part of the story.
About the Author
Jean Harvey holds a PhD in business from Ivey Business School. He is a professor of operations management at Université du Quebec à Montréal (ESG-UQAM). Harvey previously coauthored La Gestion des Services (The Management of Services), which won a PricewaterhouseCoopers award, and Complex Service Delivery Processes (Third Edition published in 2015 by ASQ Quality Press). A former manager of consulting services with Price Waterhouse Associates, his work has been recognized by several academic and business awards, including most recently the Shanghai Magnolia Quality award. He regularly acts as a consultant to organizations of all sizes, both private and public, around the world. He is involved in executive education and is a frequent speaker at both academic and business conferences. He is a lifetime member of the Production and Operations Management Society and co-chairperson of the RBC Chair in financial services management.