Senior Management and Quality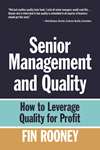 Senior Management and Quality
How to Leverage Quality for Profit
Fin Rooney
Hardcover,
210 pages, Published 2018
Dimensions: 6 x 9
ISBN: 978-0-87389-965-9
Item Number: H1540
Member Price: $
28.00
List Price: $

40.00
Looking to purchase for a course or large group?
Keywords
senior management
leadership
leverage quality
Description
"Not just another quality tools book. I wish all senior managers would read this...Anyone who is interested in how quality is embedded in all aspects of business should get this book."
Holly Hickman
Director, Customer Quality, Constellium
In this original and practical book, Fin Rooney strips back the myths surrounding quality. He goes back to original principles in deciding what quality means, and then proceeds to show how it can have a positive influence on all departments. He suggests that every department should have quality objectives in order to generate a quality culture.
This book will change how you look at quality. You will see how you can use it to drive improvement, cost savings, and better profitability in your organization. It will look at using quality not just as a tool for making good products or delivering a good service, but as a strategic weapon in the marketplace.
Full of helpful questions and thought-provoking ideas, Senior Management and Quality will ensure you have interesting conversations with senior managers and how they view quality. For senior managers, it gives a framework for devising a coordinated quality strategy, involving every department in quality, and showing how an embedded quality strategy can create virtuous circles of improvement.
Among many features, this book:

Explains how we can turn our quality departments and staff into a strategic, value-adding service

Gives a neater definition of 'quality' that can be applied to any department in any organization

Shows the relationships between quality and suppliers, customers, and internal departments

Addresses the issues that can arise with the department that is the most important one in determining product quality: R & D

Reassesses our view of company and quality objectives

Reviews the role of quality personnel, and how we can use them as internal consultants

Investigates how quality can influence training and change management

Takes a fresh look at objectives and metrics, and the problems and contradictions with some of the common ones in use

Looks at some of the deficiencies with Six Sigma
With over 30 years in quality, Fin Rooney has put together the results of that experience in the real business world and come up with a practical approach to using quality as a way to improve your organization's performance in all areas.