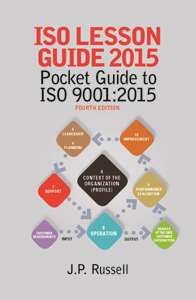 ISO Lesson Guide 2015
Pocket Guide to ISO 9001:2015, Fourth Edition
J.P. Russell
Spiralbound,
102 pages, Published 2016
Dimensions: Pocket Guide
ISBN: 978-0-87389-903-1
Item Number: H1478
Member Price: $
16.80
List Price: $

24.00
Looking to purchase for a course or large group?
Description
The
ISO Lesson Guide
translates ISO 9001 into easy-to-understand words. This pocket guide was designed as a quick reference for anyone to carry around conveniently.
Each element containing requirements is discussed and key concepts are highlighted at the beginning of each section.
In the ISO Lesson Guide:

Quality is defined
The ISO process approach is explained
Key concepts are accompanied by an illustration
Risk-based thinking is introduced
Concepts are described in easy-to-understand words
A brief conspectus summarizes ISO 9001 requirements
Quality management principles are described in easy-to-understand words
An entertaining fable explains the difference between ISO 9001 and ISO 9004
Ideal for handing out to existing and new employees, this pocket guide can also be used as supplemental study material for ISO 9001 training courses.