Permission to Forget, Tenth Anniversary Edition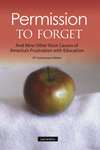 Permission to Forget, Tenth Anniversary Edition
And Nine Other Root Causes of America's Frustration with Education
Lee Jenkins
Softcover,
210 pages, Published 2013
Dimensions: 6 x 9
ISBN: 978-0-87389-855-3
Item Number: H1450
Member Price: $
30.00
List Price: $

51.00
Looking to purchase for a course or large group?
Description
SPECIAL OFFER Buy quantities of 10 for just $100, a savings of nearly 60% over list price! Available only by ordering via phone, so call 1-800-248-1946 and mention code QPKED83.
This book describes 10 decades of wasteful practices buried deep within U.S. schools. Today's educators did not invent these wasteful practices; they inherited them. Five of the root causes are wasting time and five are wasting student potential.
Ten years ago the first edition of Permission to Forget was published, and now this landmark anniversary edition is available. Its legacy of improvement is report after report from educators describing what happens in schools when these root causes are removed. It should not go unnoticed that root cause removal is free, unlike legislated reforms. Think about it: free!
But teachers, principals, and district superintendents must collaborate in order to remove these root causes. Teachers can not remove them by themselves. Principals can not remove them by themselves. Superintendents can not remove them by themselves. Only together can teams of educators lead the removal of these 10 wasteful practices and provide America the education it desires.