The ASQ Quality Improvement Pocket Guide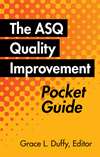 The ASQ Quality Improvement Pocket Guide
Basic History, Concepts, Tools, and Relationships
Grace L. Duffy
Spiralbound,
160 pages, Published 2013
Dimensions: Pocket Guide
ISBN: 978-0-87389-853-9
Item Number: H1443
Member Price: $
16.80
List Price: $

24.00
Looking to purchase for a course or large group?
Keywords
basic quality
history
tools
Description
Basic quality at a size and price that are easy on your pocket!
This pocket guide is designed to be a quick, on-the-job reference for anyone interested in making their workplace more effective and efficient. It will provide a solid initial overview of what "quality" is and how it could impact you and your organization. Use it to compare how you and your organization are doing things, and to see whether what's described in the guide might be useful.
The tools of quality described herein are universal. People across the world need to find better, more effective ways to improve the creation and performance of products and services. Since organizational and process improvement is increasingly integrated into all areas of an organization, everyone must understand the basic principles of process control and process improvement. This succinct and concentrated guide can help.
Unlike any other pocket guide on the market, included throughout are direct links to numerous free online resources that not only go deeper but also show these concepts and tools in action: case studies, articles, webcasts, templates, tutorials, examples from the ASQ Service Division's Service Quality Body of Knowledge (SQBOK), and much more. This pocket guide serves as a gateway into the wealth of peerless content that ASQ offers.