Establishing a Culture of Patient Safety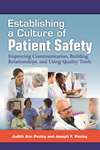 Establishing a Culture of Patient Safety
Improving Communication, Building Relationships, and Using Quality Tools
Judith Ann Pauley, Joseph F. Pauley
Softcover,
208 pages, Published 2011
Dimensions: 6 x 9
ISBN: 978-0-87389-819-5
Item Number: H1418
Member Price: $
10.00
List Price: $

10.00
Looking to purchase for a course or large group?
Keywords
communication
healthcare
patient safety
Description
The purpose of this book is to provide a road map to help healthcare professionals establish a "culture of patient safety" in their facilities and practices, provide high quality healthcare, and increase patient and staff satisfaction by improving communication among staff members and between medical staff and patients. It achieves this by describing what each of six types of people will do in distress, by providing strategies that will allow healthcare professionals to deal more effectively with staff members and patients in distress, and by showing healthcare professionals how to keep themselves out of distress by getting their motivational needs met positively every day.
The concepts described in this book are scientifically based and have withstood more than 40 years of scrutiny and scientific inquiry. They were first used as a clinical model to help patients help themselves, and indeed are still used clinically. The originator of the concepts, Dr. Taibi Kahler, is an internationally recognized clinical psychologist who was awarded the 1977 Eric Berne Memorial Scientific Award for the clinical application of a discovery he made in 1971. That discovery enabled clinicians to shorten significantly the treatment time of patients by reducing their resistance as a result of miscommunication between their doctors and themselves.