A Lean Guide to Transforming Healthcare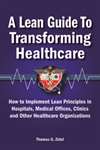 A Lean Guide to Transforming Healthcare
How to Implement Lean Principles in Hospitals, Medical Offices, Clinics, and Other Healthcare Organizations
Thomas G. Zidel
Softcover,
192 pages, Published 2006
Dimensions: 6 x 9
ISBN: 978-0-87389-701-3
Item Number: H1295
Member Price: $
39.20
List Price: $

56.00
Looking to purchase for a course or large group?
Keywords
Healthcare
Lean
Change Management
hospitals
Description
This book is an implementation manual for lean tools and principles in a healthcare environment. Lean is a growth strategy, a survival strategy, and an improvement strategy. The goal of lean is, first and foremost, to provide value to the patient/customer, and in so doing eliminate the delays, overcrowding, and frustration associated with the existing care delivery system. Lean creates a better working environment where what is supposed to happen does happen. On time, every time. It allows clinicians to spend more of their time caring for patients and improves the quality of care these patients receive. A lean organization values its employees and encourages their involvement in organizational initiatives which, in turn, sustains hospital-wide quality improvements. The opportunities for lean in healthcare are limitless.
This is not a book to be read and forgotten, nor is it meant to sit on a book shelf as another addition to an impressive but underutilized collection of how-to books. As the name implies, it is a guide; a companion to be referenced again and again as the organization moves forward with its lean transformation.
---
"This is a well-researched, well-written work by an individual who understands the current healthcare environment. It provides a practical and sound understanding of the concepts and application for Lean and Six Sigma."
James R. Bente
Vice President, Quality & Organizational Development
Memorial Health System

---
---
"Healthcare quality professionals in the U.S. and abroad could benefit from the content of this book...Comprehensive discussion of lean and its relevance to healthcare, excellent description of techniques and tools, and excellent examples and figures."
Luc R. Pelletier, MSN APRN BC FNAHQ FAAN
Editor in Chief
Journal for Healthcare Quality

---