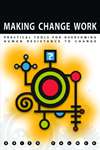 Making Change Work
Practical Tools for Overcoming Human Resistance to Change
Brien Palmer
Softcover,
104 pages, Published 2003
Dimensions: 6 x 9
ISBN: 978-0-87389-611-5
Item Number: H1202
Member Price: $
24.50
List Price: $

35.00
Looking to purchase for a course or large group?
Description
As organizations strive to remain ahead of the competition, there will inevitably and often come the need for change. All successful organizations regularly use change to improve processes and increase performance. While these times of change can be a great opportunity for an organization, it also can be a time of stress and angst for all involved. Not all organizations are in a position to make these changes effectively and efficiently, and for many their efforts often fall short of the intended goals.
Making Change Work: Practical Tools for Overcoming Human Resistance to Change was written to help organizations prepare for and successfully implement change. The price of a failed change effort can be steep, both monetarily and in a loss of credibility. Making Change Work will first provide tools to measure your organization's readiness to change, helping make sure that the efforts will not be doomed to fail from the beginning. The book then provides many tools to apply sequentially and logically in order to gain acceptance of the change throughout the organization. In helping your organization make change successfully, Making Change Work addresses buy-in, acceptance, motivation, anticipation, fear, uncertainty, and all the other messy human considerations that cause change to fail in the real world.