Crafting Service Processes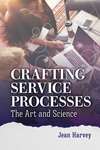 Crafting Service Processes
The Art and Science
Jean Harvey
PDF,
203 pages, Published 2019
ISBN: 978-0-87389-984-0
Item Number: E1560
Member Price: $
49.00
List Price: $

70.00
Looking to purchase for a course or large group?
Keywords
service processes
service operations
family processes
professional services
customer expectations
Description
As the title makes clear, this book is about the design and delivery of service experiences. This includes the design of installations, facilities, technologies and scripts used in the staging of such experiences. It introduces the reader to many fundamental notions in service operations, from positioning to execution, with much attention paid to human experiences such as those of customers and service workers; be they performing simple repetitive tasks or complex mental tasks. The subject is treated in an user-friendly manner with a storytelling context, focusing initially on every day services (coffee shops, fast food, supermarkets) and then moving on to complex services (lawyers, physicians, engineers, accountants).
Contrary to popular hype, not all service experiences are meant to be memorable. If all you need is a cup of coffee and this is done quickly, effortlessly, and painlessly, that's good. If there's a little plus along the way, that's better: you'll make a mental note that this is a good place to stop next time you are in the area.
In an age of exponential technological change, service delivery processes are changing quickly and service industries are being creatively destroyed. You want to be the disruptor, willing to disrupt a large part of your actual income streams. The ability to maintain differentiation rests largely on an in-depth understanding of the service experience and operational excellence. The future belongs to the fastest learner. Intuition is only part of the story.
Electronic Books Only: CD-ROM files are available for download. Please contact ASQ Customer Care for download instructions.