Making Change in Complex Organizations (e-book)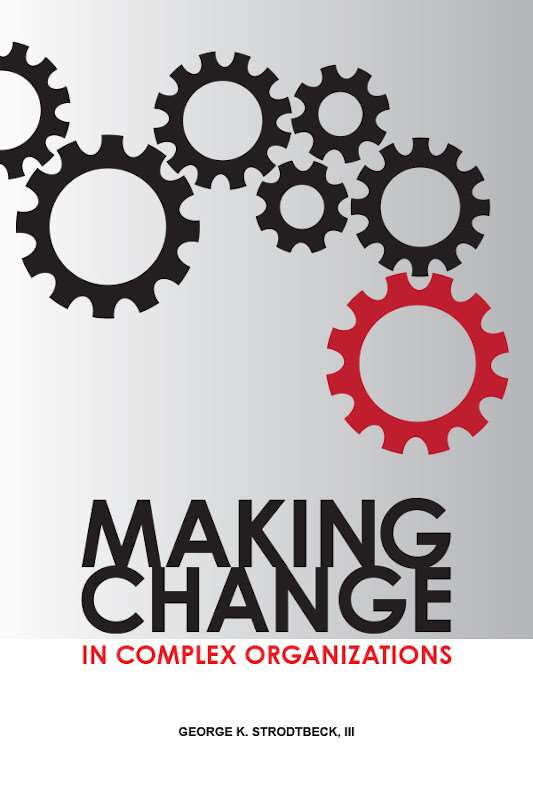 Making Change in Complex Organizations (e-book)
George K. Strodtbeck III
PDF,
142 pages, Published 2016
Dimensions: 6 x 9
ISBN: 9781953079558
Item Number: E1506
Member Price: $
21.00
List Price: $

30.00
Looking to purchase for a course or large group?
Keywords
change
complex organizations
Description
This book is written for the leader or management team of any complex organization attempting to lead an organization-wide change. Successfully leading change has never been easy. Many realities of life in the 21st century have combined to intensify the challenge. This book captures the lessons learned during more than 43 years of experience working in complex, large-scale organizations, 14 years between West Point and the United States Army and more than 29 years in two large, very different American companies. These lessons learned are shared in the hope that it will help others lead change successfully and avoid at least some of the pitfalls that come with it.
The principles and questions in this book also benefit leaders making changes in the small organization or those who desire to transform their small organization into a large one. This book is intended to serve as a leaders' guide of things to think about and how to plan for successful change.
Many books have been written about management and leadership, as well as the dos and must-dos of leading an organization. But few books discuss what it takes to make changes in today's complex organizations, and those that do are often written by consultants who have not practiced what they propose over any significant period of time. This book, by contrast, draws lessons from a successful long-term change made by leaders who had a personal and financial stake in the organization's success and saw the change all the way through.
---
"In my 40 years at Cummins one of the most successful changes made was our adoption of Six Sigma. When I became CEO it was clear that we needed to improve our product and overall business performance. We chose Six Sigma to help us do that. George's book concisely captures many of the things we had to think about when implementing Six Sigma throughout the company. I believe this is a good guide for any leader contemplating making an organization-wide change."
Tim Solso
former CEO
Cummins, Inc.

---
"As CEO I have discovered that just saying I want something done doesn't make it happen. Change done well is hard work. George's book is a practical go-to guide for driving lasting change."
Tom Linebarger
CEO
Cummins, Inc.

---
"In medicine today ever-higher quality has become an expectation. This expectation is causing us increasingly to transition from volume-based to value-based medicine. As an industry we are quickly adapting to this new value-based world. However, organizations don't transform easily. It requires dedicated and engaged teams to be leaders of change in their industry. I have been waiting for a book like this for years…whether you are a medical student or a senior attending physician…George Strodtbeck's book on Making Change is a must read!!!"
James Grant, M.D.
Chair, Department of Anesthesiology
Beaumont Health System, Royal Oak, Michigan

---
"George Strodtbeck draws on more than three decades of personal experience in planning and executing change in complex organizations. His incisive, fast-paced writing explains, engages and motivates. His guidance is candid about challenges faced but simultaneously practical and actionable in today's organizations. This book is for any leader seeking to accelerate the pace of change, improvement and innovation in their organizations."
Mohan V. Tatikonda, PhD
Professor of Operations Management
Kelley School of Business, Indiana University

---