Advanced Quality Auditing (e-book)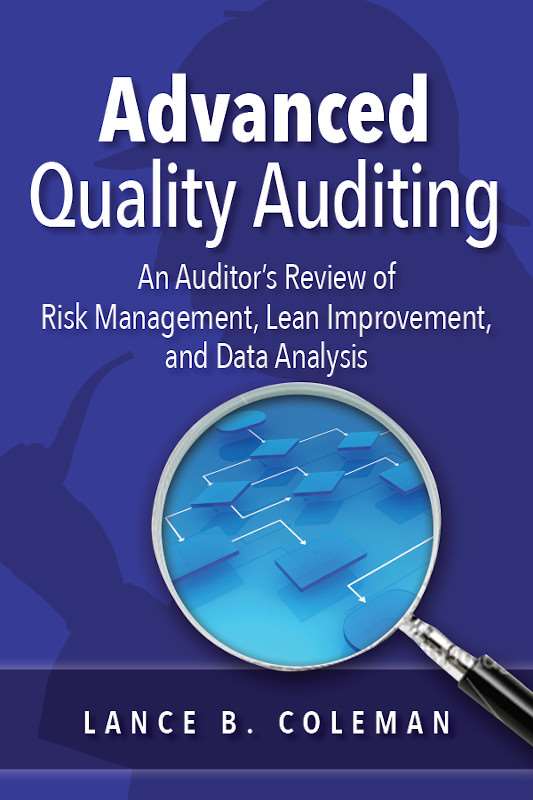 Advanced Quality Auditing (e-book)
An Auditor's Review of Risk Management, Lean Improvement, and Data Analysis
Lance B. Coleman Sr.
PDF,
114 pages, Published 2015
Dimensions: 6 x 9
ISBN: 9781953079718
Item Number: E1487
Member Price: $
25.90
List Price: $

37.00
Looking to purchase for a course or large group?
Keywords
audits
auditing
quality auditing
lean
Description
Auditors from any industry must "learn the language of upper management" if they truly want to effect positive change throughout their environments. If quality auditors want to remain relevant and keep from becoming marginalized, they need to add new skills and credentials, and even more importantly, move beyond conformance monitoring to determine how their work might impact the corporate bottom line.
The purpose of this book is to accept that challenge in presenting two ways that auditors can "learn [to speak] the language of upper management"—either by helping to drive continuous improvement or by helping to manage risk. This book has essential information that will help guide an organization's efforts to glean more value from their audit process. It helps grow the audit function beyond verification audits. It provides insight for using the audit function to improve organizations using lean principles. It also discusses how the audit function can contribute to and be formally integrated into the ongoing risk management program.
This book is about advancing the profession of auditing, as well as the skills of individual auditors.
---
"Buy. Read. Reread. It will kick start your risk-based thinking journey. Then, buy the book for each member of your auditing team."
Greg Hutchins, PE
Director, Certified Enterprise Risk Manager Academy
---
"While there is a constant influx of books on auditing entering the market today, Advanced Quality Auditing: An Auditors Review of Risk Management, Lean Improvement and Data Analysis stands out among them as Lance excels at demonstrating to readers how they can embrace the methodologies for continual improvement as they apply to the audit program and audit professionals. By combining the use of the audit checklist development matrix tool (ACDM) and various lean tools that are traditionally applied to processes other than auditing, auditors can ensure they not only audit for compliance but also add value to the audits, demonstrating the value of audit program, and in turn, themselves.
The clarity of explanation and illustrative charts and diagrams of the Kano model makes it easy for the beginning auditor to understand and implement, while providing deeper insights to experienced auditors in how to leverage the model in the continual improvement of the audit program. Lance clearly makes the case that as audit professionals we should all embrace the use of the Kano model and apply it to our own audit programs to ensure we are always positioned to "delight" our customers."
Nancy Boudreau
ASQ Audit Division Chair (2014-2015)
---
"Lance Coleman has taken a traditional topic on auditing and written a professional synopsis of key concepts in terms so clear as to make them understandable and useful to the reader. A great book to use and have as reference. Well done!"
Dr. Erik Myhrberg
IRCA Certified QMS Lead Auditor
Co-author, A Practical Field Guide for ISO 13485:2003
---