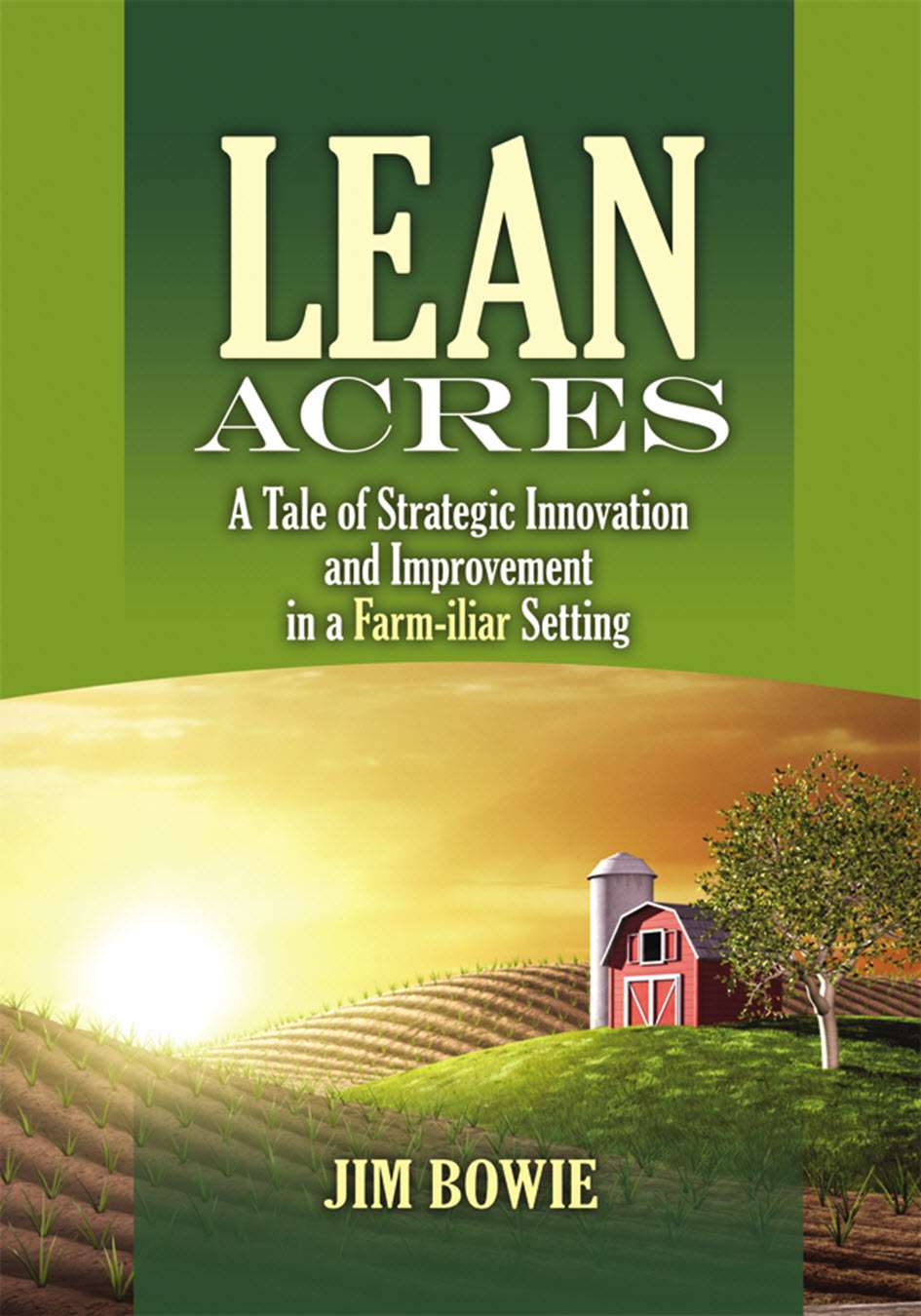 Lean Acres
A Tale of Strategic Innovation and Improvement in a Farm-iliar Setting
Jim Bowie
PDF,
264 pages, Published 2011
Dimensions: 6 x 9
ISBN: 9780873892919
Item Number: E1408
Member Price: $
20.00
List Price: $

20.00
Looking to purchase for a course or large group?
Keywords
Lean
Six Sigma
Theory of Constraints
Business Process Reengineering
novel
Description
Change can be hard. It is often difficult to conceive performing tasks in a different order, in a different place, at a different time, or in a different manner altogether. And this is only for the individual. When we talk about organizational change the difficulty increases exponentially with each individual that is added to the equation.
This book uses as its basis a fable – the story is not untrue, but it is not fact either. It is a story in which the group dynamics are real, the problems are valid, and the solutions legitimate. It asks you to consider a complex environment with multiple classes interacting between functional units with requirements that are perceived as exclusive and unique, and personalities that reinforce presumed boundaries. It asks you to follow along as all these individuals work together using the basics of four quality methodologies (Lean, Six Sigma, Theory of Constraints, and Business Process Reengineering) to address the problems they face, discover solutions together, and move forward in their continuous performance improvement journey.
---
"Lean Acres is fantastic in its appeal and innovative in its writing style. Jim Bowie introduces an amazing convention by using talking animals on a farm ("Lean Acres Farm") to represent "real" stakeholders and teach Strategy and Process Improvement methodologies (Balanced Scorecard, the StrateTree, Lean Manufacturing, Six Sigma, the Theory of Constraints, and Business Process Reengineering) in ways that are easy to understand and enjoyable to learn. His step-by-step guidance through the each tool and philosophy make this book essential for Leaders, Managers, Quality Professionals, and anyone interested in improving performance in any industry. The message is simple, the illustrations are an excellent complement to the story, and the Reader interaction (Pre- and Post-Tests coupled with Rest, Reflect, and Relate sections at the end of each chapter) reinforce education, application, and relevance. Take a trip to Lean Acres today – you will be better for it."
Mikel J. Harry
Co-creator of Six Sigma and best-selling author

---
---
"I think Lean Acres should be a must-read for every first-year student of industrial and systems engineering and given by every continuous improvement leader to those who are about to be influenced by the programme – so that they can rapidly get 'on-board' and know the nature and value of the journey of which they are going to be a part."
Joseph Paris
Excerpt from a review in Lean Management Journal

---
---
COMMENTS FROM OTHER CUSTOMERS
Average Customer Rating:
(5 of 5 based on 1 review)
"Goldratt, Disney, and Lewis are all gone now but their fiction/fable genre lives on in Mr. Bowie's ingenious "Farm-iliar" setting. This easy to read and entertaining work on transformative change comes highly recommended whether you are a beginner in continuous improvement initiatives or consider yourself to be an "expert". His rural characters are carefully selected to represent the cultures and attitudes often found within typical organizations and serve to drive each step-wise lesson in continuous improvement forward with unrelenting clarity. This book will make you a better "expert" or simply set you feet on a solid path towards the goal of perfection. It is nearly everything you need to know to ply your trade and fix whatever problematic situations constrain your success."
M. James Allen, Ph.D., President & Founder Lean Diagnostics Institute

---