Lean-Six Sigma for Healthcare, Second Edition (e-book)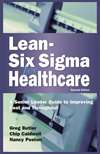 Lean-Six Sigma for Healthcare, Second Edition (e-book)
A Senior Leader Guide to Improving Cost and Throughput
Chip Caldwell, Greg Butler, Nancy Poston
PDF,
238 pages, Published 2009
ISBN: 9780873894029
Item Number: E1354
Member Price: $
70.00
List Price: $

100.00
Looking to purchase for a course or large group?
Keywords
healthcare
health care
Six Sigma
Lean
leadership
Description
This book's unique focus on the role of healthcare leaders and the lessons learned were uncovered during the authors' research of over 200 U.S. hospitals' performance. It was written specifically for CEOs, the "C-Suite," and senior leaders who desire to harness the power of Lean-Six Sigma as their major strategic weapon for progress, as well as those charged to coach them. It is intended for those organizations that operate active Lean-Six Sigma initiatives, but have yet to successfully attack high leverage processes like "In Quality Staffing" and recovering significant Cost of Quality from throughput improvements. It is also intended for senior leaders who have yet to tackle Lean-Six Sigma as their major organization-wide strategic weapon.
However, it is also a must-read for managers at all levels, quality professionals, and Lean-Six Sigma Black Belts who desire to aid in assuring that their organizations' improvement efforts attack strategically versus the all-to-common tactical, project-by-project approach that suboptimizes the power of Lean-Six Sigma. Further, the book and supporting website is full of electronic checklists, tools, templates, suggestions for additional reading, and many recommended 1-hour and 2-hour learning sessions for senior leaders and managers.
The changes in this second edition include the following:

Many more examples of "In Quality Staffing", a healthcare translation of one of the seven categories of Lean waste found in the Toyota Production System and one of the most powerful concepts applicable to healthcare. This concept has been described as "the language of nursing" versus a more manufacturing-speak described in other leading Lean-Six Sigma books.
Expanded dialogue of the role of Lean in healthcare.
Additional embedded case examples.