Connect to the Power of ASQ + ASQE
With more than 60,000 individual members and 250 organizational member companies spanning 130 countries, ASQ offers unparalleled access to quality professionals around the globe. Our members are passionate about their work, are experts in their fields, and represent billions of dollars in industry buying power. Whatever your marketing objective, ASQ can help you deliver your message and achieve results through our popular conferences and trusted print and online platforms.
For 2021, ASQ has expanded its advertising portfolio by creating more targeted solutions for our partners. This now includes larger ad sizes and inventory in our popular e-newsletters, social media advertising, sponsored blog posts, and more.
For more information, fill out the form to request a media kit and contact the SmithBucklin team to get started on your integrated marketing plan today.
General Media & Event Sales Inquiries
mediasales@asq.org
Companies 1-L
Pat Price, Sales Manager
(202) 367-2462
pprice@smithbucklin.com
Companies M-Z
Scott Narug, Sales Manager
(312) 673-5974
snarug@smithbucklin.com
Hallie Brown
ASQ Advertising Department
2001 K Street, NW, 3rd Floor | Washington, D.C. 20006
(202) 367-1229
hbrown@smithbucklin.com
Why Partner ASQ + ASQE?
Unparalleled access to quality professionals around the globe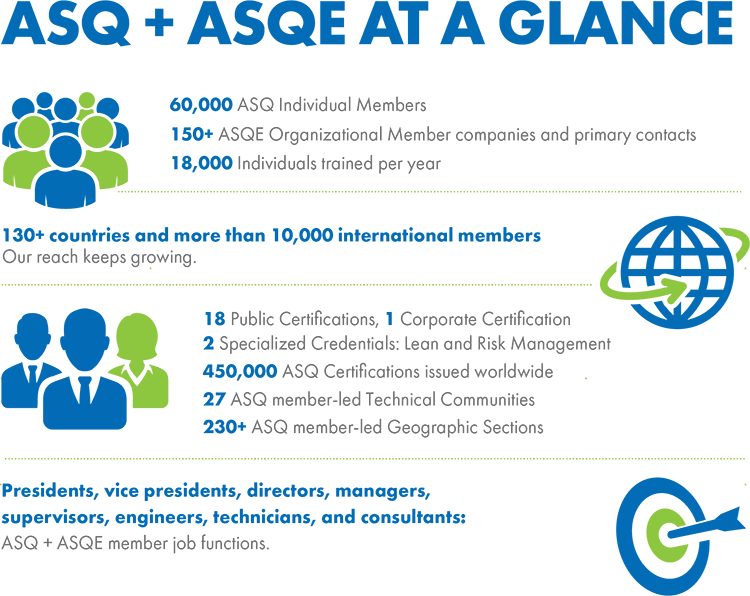 Impressive reach across ASQ's print, online, and event opportunities
44,000 print subscribers across two leading industry publications
2 million online pageviews per month
105,000 e-newsletter subscribers
3,000 event attendees at ASQ's flagship event, World Conference on Quality and Improvement