2007 Freund Scholar Sees Statistics as Solution to Quality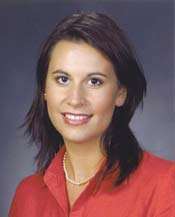 While studying Six Sigma as an undergraduate student in her native Romania, Denisa Olteanu recognized that statistics was the path she wanted to pursue.
"I realized that statistical tools are vital for the quality field and that people generally have a hard time when applying them. I thought more specialists in the field were needed," said Olteanu.
Olteanu was awarded ASQ's Richard A. Freund International Scholarship for 2007. A citizen of Romania, she currently is working on her doctorate in statistics at Virginia Tech.
Olteanu became interested in Six Sigma philosophy and methods when she served as a translator for Robert Lochner and Paul Linthorst, both ASQ Senior members, during their visit to Romania to give Six Sigma Black Belt training to managers and engineers. "I got along very well with them. They were more like mentors to me," she said. "Dr. Lochner has a Ph.D. in statistics and he encouraged me to apply at Virginia Tech, knowing the Department of Statistics' good reputation."
Olteanu earned her bachelor's degree in economics and forecasting from Bucharest Business School, and her master's degree in statistics from Virginia Tech. While working on her statistics degree and starting her doctorate coursework, Olteanu interned in 3M's Lean Six Sigma Department and became a consultant on behalf of Virginia Tech to Becton & Dickinson in the area of quality control. She also has been a teaching assistant at Virginia Tech.
During her internship at 3M Olteanu worked on statistical projects, doing research for its robust design strategy improvement. She also participated in seminars about design of experiments and statistical packages. She said, "It was a truly valuable experience for me. It was my first professional experience in the U.S., and I have met many great people."
Initially Olteanu thought she would like to focus her efforts in the financial field and lead Six Sigma initiatives in the banking world. However, now she enjoys learning about different processes and working in different fields to improve her skills.
"Many times new solutions can be developed by learning from similar situations in totally different areas. I would like to be able to change philosophies and make businesses more quality-oriented and aware of quality tools," said Olteanu. "Quality saves time and money and it makes things easier. There is always room for improvement in every area and the field of quality is trying to fill it. I love doing the right thing in the right way."
"I am so happy and honored to be selected as the recipient of the Richard A. Freund Scholarship," said Olteanu. "At the end of my studies I want to continue working in the quality field. Later I hope to lead initiatives and have the power to change practices and make people aware of the importance of quality improvement across the board."
About the Freund Scholarship
The Richard A. Freund International Scholarship honors the memory of Richard A. Freund, a past president of the American Society for Quality (1972-73). Freund was recognized internationally for his contributions to quality, international goodwill, and tireless scholarship. During his 34-year career with Eastman Kodak Company, he played a key role in molding the direction of its quality effort.
Awarded annually for the past 13 years, the scholarship supports a candidate's graduate study of the theory and application of quality control, quality assurance, quality improvement, and total quality management. It covers the engineering, statistical, managerial, and behavioral foundations of those fields. The scholarship is offered to members and nonmembers worldwide. Study may take place in one's own country or in another country.
The annual scholarship is funded through a gift of $100,000 that was made to ASQ by Freund's widow, with instructions that ASQ shall administer it. Scholarship applications are received no later than April 1 of each year, with the award being made by June 1 of each year. The approximate amount of the yearly award is $5,000.
The scholarship is given to a student who is planning to enroll, or already is enrolled, in a master's degree or higher level program that focuses on quality engineering, total quality management, quality control, quality assurance, quality improvement, or a similar quality emphasis at any university or college. Candidates must provide documentation they've been accepted into an appropriate program. Deadline for applications is April 1 of each year.
Applicants must have a grade point average (GPA) or equivalent of 3.25 or higher on a 4.0 scale for undergraduate studies (bachelor's degree) in engineering, the sciences, or business. The GPA is the grading system utilized in the United States.